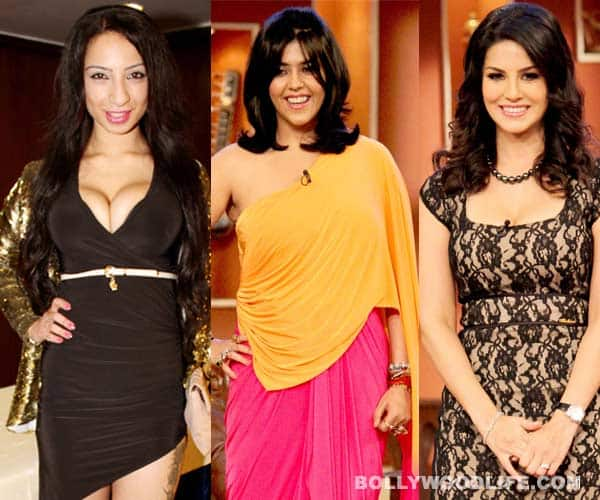 The Playboy girl, who drove the entire Indian crowd in the UK with her oomph, is now all set to enter Bollywood. Will it be with Ekta Kapoor? We wonder…
Shanti Dynamite has been synonymous with sexy appeal and she is now in Mumbai. She has come to the city of dreams from UK and plans to meet Ekta Kapoor. The Playboy girl wants to meet the TV czarina and talk about a possible role in her next film.
A little birdie informs us that Ekta Kapoor might be having a script that is apt for the sex siren and that is why Shanti Dynamite is in India. If we recall Ekta had also shown keen interest on Sunny Leone when she had first come down to India. Incidentally she had also roped the sexy Sunny Leone to do Ragini MMS 2 that releases this weekend.
Our khabroos also inform that Shanti is a bit pissed at the soap opera queen because she feels that Sunny Leone's role in Ragini MMS 2 is modelled on her. Although no one from Balaji confirmed the news, the Playboy girl informed a leading daily saying, "I have come to India specially to take a stand and let the people know who the original is. I have heard Sunny Leone had copied my looks in her upcoming movie Ragini MMS 2 in the song Baby doll I have come to India to watch the movie and meet Ekta Kapoor."
Only time will tell how that meeting goes on and whether Shanti Dynamite is able to impress the Balaji head honcho. If she is able to convince her maybe we might see Ragini MMS 3 starring Shanti Dynamite. What do you think peeps?