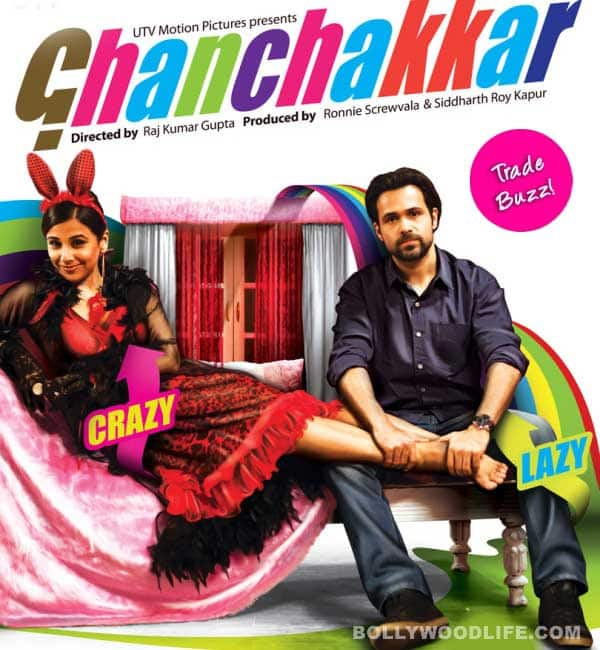 Raj Kumar Gupta's quirky comedy has managed to create good buzz among cinegoers, feel B-town trade pundits
The funky trailer of the Emraan Hashmi-Vidya Balan starrer Ghanchakkar has evoked enough interest and enthusiasm among those film buffs who prefer to watch entertaining yet hatke cinema. And Raj Kumar Gupta's movie looks just that! One of the most anticipated films of this year, we feel Ghanchakkar banks on the successful pairing of Emraan and Vidya who are all set to relive their magic post the super successful – The Dirty Picture. The movie scores another point in the form of the equally hatke music by Amit Trivedi who loves to experiment with every new project. We give Ghanchakkar a big thumbs up!
"Ghanchakkar features two stars who have an enviable track record at the box office – Emraan Hashmi and Vidya Balan. Interestingly, both feature in roles that are quite unconventional and drastically different from what both of them have done in the past. The premise of the film covers both the single screen and the multiplex audience and the uniqueness of the plot is bound to draw people's interest! It would be interesting to see how the film fares," points out leading exhibitor-distributor Akshaye Rathi.
Rajesh Thadani, distributor, Multimedia Combines feels, "The film looks very interesting and with no opposition, it should take a good start. Made at a budget of approximately Rs 35 crores, the buzz has managed to gain decent buzz among the audience." Numerologist Bhavikk Sangghvi predicts, "The title Ghanchakkar adds up to Number 30 – which is neither fortunate nor unfortunate, but the successful pairing of Emraan (March 24, 1979) and Vidya (January 1, 1978) will do the trick. Ghanchakkar will prove that the lead pair is also good at comedy."
Will Raj Kumar Gupta's first attempt at comedy bring him good fortune at the box office? This Friday will say it all…