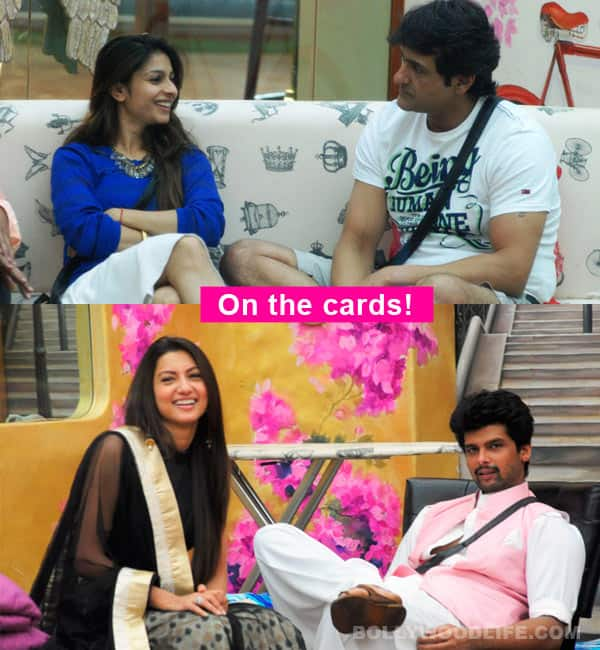 Bigg Boss house has witnessed several romances in the past and this season was no different…
Gauahar Khan and Kushan Tandon, Armaan Kohli and Tanishaa Mukherji's are touted as the new couples of Bigg Boss 7. But is all of this true? Are these really the new couples? Is this only for the cameras? Is the chemistry going to all fizzle out the moment they leave the house? What do these couples think about each other? Our tarot expert Shruti Chopra predicts…
Gauahar Khan & Kushal Tandon: We have witnessed some comfortable moments between this jodi – it makes for great reality TV, but the King of Pentacles and the Moon card shows their relationship to be moody yet sensual. They are both strong headed individuals and find their opinions clashing too. Despite this the Sun and the Chariot explain their desire and attraction to be magnetic but temporary. Yet the Knight of Wands is an aggressive interruption in their balance – this comes from their natural tendency to dominate and get their own way.
This means that once they meet outside the house, there may not be a future to their relationship. Conflict of interest and arguments will trouble them even if they do try to take this forward. The Nine of Swords urges for better flexibility and being less opinionated, but it's highly doubtful any of that will happen. Gauahar will find Kushal to be too much hard-work, whereas Kushal will like the stability Gauahar brings him.
Tanishaa Mukherji & Armaan Kohli: Here's a couple that is much talked about – but can you really call them that? The cards are very clear at explaining that there is respect and fondness for one another, yet love type chemistry does not show up. In fact the Three of Pentacles explains the stark opposite – they are two independent minds who just bring each other balance, but yet they are alone in their battles. Over the course of their stay at the house their friendship will go through some harsh conflicts, but sensibility will prevail. Their support of each other will grow and make them stronger. Their individual maturity sees them continuing their association outside the house. The Four of Wands and the Hanged Man do hint at their families requiring explanations, but once mis-conceptions have been cleared, their friendship will be long lasting.
Armaan sees Tanishaa as the Empress and the Hermit – a combination of an attractive and an intelligent woman, someone who has understood how to treat life. Tanishaa finds Armaan to be a steady thinker but poor at expressing this. She hopes that like the Justice card he manages to be more balanced through conversation and overall conduct.
In a nutshell – Gauhar and Kushal will fluctuate in their feelings, but Tanishaa and Armaan will develop mutual respect. But genuine love between either couple doesn't seem to exist currently.