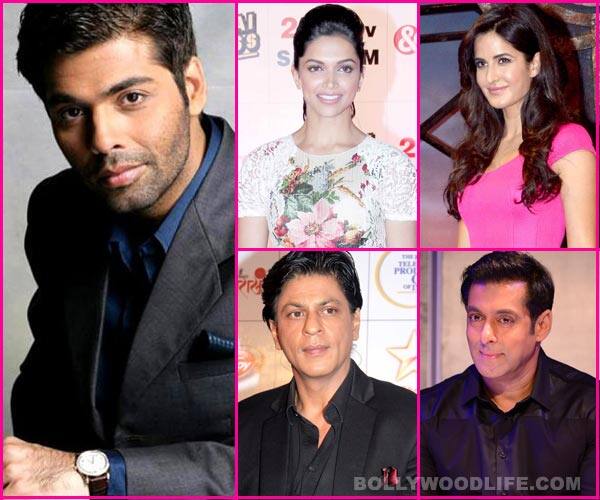 skip advertisement
The popular talk show with its superstar guests and Bollywood biggie as anchor has managed to dig up quite a few hidden secrets from the filmi duniya on national television. Will it manage to sort out a few feuds too? Here's hoping…
Will Karan Johar's popular television show Koffee with Karan manage to go behind the scenes, get beneath the sheets with the celebrity guests this time around? Director-producer-reality show judge-actor Karan Johar certainly has the gift of the gab.
The filmmaker manages to bring out the most unfamiliar side of a celebrity that no journalist or industry insider has managed to do so far. Karan has pulled off quite a few impossible moments during his small screen reign – he got Deepika Padukone to vent her anger at ex-beau Ranbir Kapoor with some very nasty craks (remember she chose RK Jr to sell condoms!). He started a new cat fight between junglee billi Priyanka Chopra – and Bebo main Bebo Kareena Kapoor (then not yet Khan). The two lovely ladies, both involved with Shahid Kapoor, one openly, the other never acknowledged took cracks at each other via Karan and gave off ice-thanda vibes to each other until they were reunited by the Don Shahrukh Khan himself. Karan managed to get Kajol to talk about husband Ajay Devgn's not-so-friendly relationship with her good buddy Shahrukh. And it was on the Koffee couch that Shahrukh – who was then alienated from his closest friends – made a public apology to Salman Khan and Farah Khan.
It's been almost two years since the last season of Koffee with Karan. A lot of equations have changed in B-town, as Karan himself has said. And apart from all the people that Karan will for sure invite to share confidences while seated on his fancy sofa, there are some that we would love to see share that space, sipping coffee and fighting to win the famous hamper. And maybe airing a secret or four that we – and you – have been dying to know about, no? Now that Karan has promised to be a little more intrusive, we suggest a few questions…
Shahrukh Khan and Salman Khan: Unusually, Shahrukh will not be opening his best friend's show; instead the Dabangg star will mark his debut on the famous couch. We like Karan's idea of a grand opening, a dhamaakedaar one. After all, the eternal bachelor of Bollywood has so much to talk about, be it his ex Katrina Kaif or his Romanian connection Iulia Vantur. And the TRPs will for sure shoot up high with the mere thought of knowing more about Salman, right? But what would spice up this episode even more is if we got the warring Khans to sit together and discuss what went wrong between them, or even what didn't. So much has been said about the jhagda between the two superstars; wethinks tis time that they themselves cleared the air, hai na?
Katrina Kaif and Deepika Padukone: Karan managed to raise a few eyebrows when he got Ranbir Kapoor's exes Sonam Kapoor and Deepika together on the couch; their camaraderie – even if fake – was awesome; if the Raanjhanaa star was catty, the Cocktail gal had her well-sharpened claws out. We must say that this episode did leave Ranboo scarred. And this time around, with Ranbir choosing to go with cousin Kareena Kapoor Khan instead of his rumoured ladylove Katrina, we're sure he's playing the safe game. But if Karan can get Chikni Chameli and the Yeh Jawani Hai Deewani gal on the same couch…now that would be a dabangg episode!
Ranveer Singh and Ranbir Kapoor: With Deepika and Kat coming together – at least in our dream scenario – shouldn't their current men also bond on the same cushions? After all, if rivals Imran Khan and Ranbir could share that space and declare their 'love' for each other, why can't the Ram-Leela star bond with his Besharam peer? We're sure that RK and RS will have lots more boytalk to share than just their Deepika connect. Ranboo could give the Lootera star tips on how to woo women without making any commitments, hai na?
Alia Bhatt, Varun Dhawan, Siddharth Malhotra and Arjun Kapoor: We know the first three are KJo's students from Student Of The Year. But adding Arjun Kapoor to the mix could finally clear any confusion about alleged love triangles… or is it a square?
Ram Gopal Varma and Sridevi: To have Varma on a show with Karan is in itself a coup. The two filmmakers have been at loggerheads for ages now; their blow-hot, blow-cold relationship has been the talk of the town. And with Ramu's Satya 2 bombing at the BO, it would be the perfect opportunity for Karan to get some fabulous digs in. KJo could also get Ramu's favourite heroine Sridevi on the show; after all, everyone knows of his obsession for the English Vinglish star. Remember how he said: "The woman whose company everyone desired was left all alone in the world, till Boney Kapoor stepped into her life and married her. I was one of the few million men in the country who wanted to kill Boney out of sheer jealousy." This episode will be more spooky and thrilling than any of RGV's recent films.
Rani Mukherji and Aditya Chopra: Rani and Adi have been extremely shy about their relationship; so shy that we wonder if they talk to each other about it – in fact, we heard that Ms Mukherji was stunned when her long time beau asked her to marry him earlier this year. Karan is close friends with Mrs Chopra (Shatrugan Sinha said that, remember, not us!) and she has drunk his Koffee many times over, so maybe she can persuade her reclusive miyaan to join her on the show. Wethinks it would be the perfect opportunity to make the jodi formal with a mooh dikhayi, na?
Shruti Haasan and Anushka Sharma: Shruti Haasan and Anushka Sharma have a lot in common, besides being two good looking young Bollywood stars on a rise. The duo has a rumoured penchant for corrective surgeries. While Ms Haasan is quite vocal about it, the Band Bajaa Baraat babe has not admitted to being enhanced in any way. Wethinks that is Rakhi Sawant can talk about what God did not give her that the doctor did, others can too.