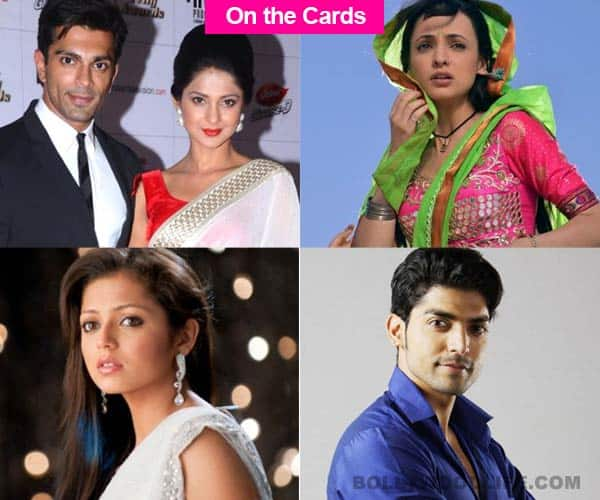 2013 had seen multiple changes, with Karan Singh Grover losing his role on Qubool Hai; with Sanaya Irani starring in a new show; Mohit Raina and Mouni Roy getting involved in a relationship..
There's just so much going in the Television land – We ask our in house Tarot Reader, Shruti Chopra what her cards say about the future of these stars.
Karan Singh Grover and Jennifer Winget
The Nine of Swords and the Five of Cups are two cards that denote disappointment, stress and regret. Losing Qubool Hai was not the best moment in Karan's acting career; certain incidences has seen a negative impact on this reputation, which will take some time to re-build. He will have to watch out for not getting involved in further arguments – he should not get caught up in trying to justify himself, instead it's time to focus on further quality work that will be coming his way towards the latter half of the year. Karan and Jennifer opening their own production or even working together should be delayed for a year as the Hanged Man and the Eight of Cups warns of unnecessary disappointments coming up due to lack of organisation and communication.
On the other hand, Jennifer has a confidence building and a secure 2014 ahead of her. She needs to be careful of not trying to multi-task so much. Remaining focused will see the Wheel of Fortune coming in – it will bring with it a chance to re-invent herself and her career.
Raqesh Vashisth
Karan Singh Grover's loss is certainly Raqesh Vashisth's gain. The Magician shows Raqesh being able to do justice to his role in Qubool Hai by adding an additional soft yet controlled element to his character. This confidence will even see him do well on Nach Baliye 6 but not to the point of winning it. 2014 is a fabulous year for him – he will explore various sides to himself, helping him gain further respect in the industry.
Ankita Lokhande and Sushant Singh Rajput
It's quite a contrast – a positive Nine of Pentacles against the concerned Nine of Swords. Ankita Lokhande will have some offers from Bollywood which will get her very close to her first film, but then such offers will not work out. It is a bit of an inconsistent year in which her patience will be tested. Bollywood is definitely going to happen for her, but not without further ups and downs. Such inconsistencies will also be seen in her plans for marriage with Sushant Singh Rajput. There will be delays that will cause friction between them especially since both wish to be more secure in their careers, but the cards advise against this – Waiting for the right moment dictated by career will be silly.
Sanaya Irani and Mohit Sehgal
Sanaya Irani opens the new year with her new TV show, Rangrasiya. The Queen of Pentacles means that she might just steal the show! She will garner appreciation for her versatility. Although the show will initially do well and may even seem to grow in popularity – sustaining this will be a tough challenge for the makers. Sanaya's relationship with Mohit Sehgal will continue to remain steady and secure. They are comfortable in their spaces and enjoy their relationship – but marriage seems far off.
Drashti Dhami
Bollywood should be welcoming a new actor in Drashti around August-September 2014. The Four of Cups shows her to be receiving some substantial opportunities, out of which some will fizzle out, but the right one will stick. Since her focus is work, a relationship at this stage of her life will only cause complications, hence the cards advise her against this.
Sakshi Tanwar
Unfortunately for Sakshi Tanwar, Bade Acche Lagte Hain is not going anywhere – it does not elevate or even maintain her career, instead it drags it down. BALH may have a good start to the year but within the next three months it won't progress so well. Sakshi, playing Sunny Deol's wife in Mohalla Assi will change the direction of career by providing her with more such work. She will be selective but smart with her approach. There is certain success in this new move for hers. On a personal note, with the appearance of the Ten of Cups, marriage is looking very promising this year.
Barun Sobti
Debuting into Bollywood, Main Aur Mr Right will go through some delays only for it to improve the final product. The wait will be worth it for Barun; the Nine of Cups represents a satisfied, content and a renewed thirst to utilise the fruits of this opportunity.
Gurmeet Choudhary
Gurmeet and Debina are certain strong contenders to win Nach Baliye 6, but the Five of Pentacles does not show this to be a likely eventuality – problems, pains and discomfort will hinder their presence. But on a brighter note, television opportunities will be ample and successful for Gurmeet. New work and new creative challenges will keep him busy, allowing him to build better financial security. Bollywood will come to him again, but in 2015.
Mohit Raina and Mouni Roy
Post Mahadev, Mohit will remain graceful and wise in how he pushes his career forward. The Hierophant explains the consistency and balance he has maintained in his life, allowing him clarity and mental strength. He is a good judge of opportunities and will continue to make audiences notice him. Marriage is certainly on the cards for Mohit and Mouni. They will need to improve their communication if this relationship is to maintain longevity, but the Ace of Cups does reflect the beauty and love between them. There is elegance and respect in their conduct towards eachother. 2014 should see them tying the knot.