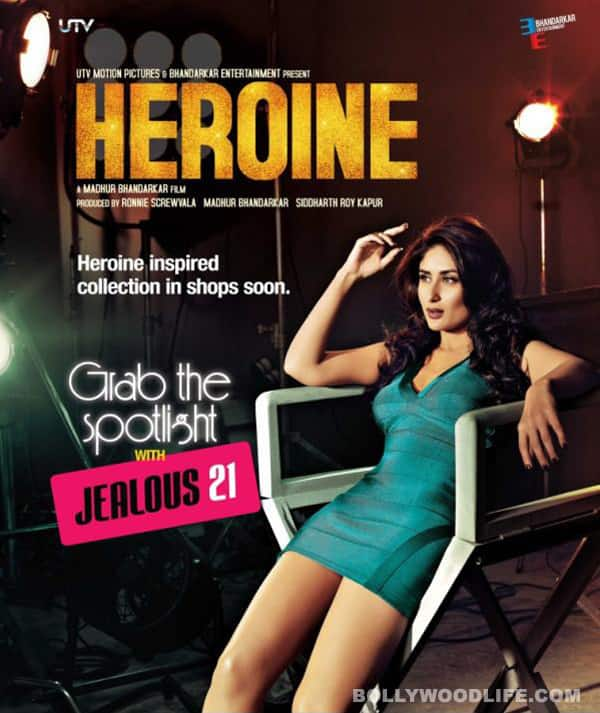 Hyped as the film to get the widest release for a woman-centric production in the country, Madhur Bhandarkar's magnum opus Heroine will be released across 2,400 screens. But will this mega-release overpower the Khan supremacy at the box office?
When Vidya Balan's sensational film The Dirty Picture was released across 1,776 screens across the country last year, it raised many eyebrows. In a nation where films continue to be sold on the name of its male superstars, The Dirty Picture's big release certainly came as a shocker. It goes without saying that the film raked in profits. Interestingly, Vidya's next release, the delectable Kahaani was then screened across 1,100 screens. The Sujoy Ghosh thriller too received a fabulous response at the box office.
And now we hear that Madhur Bhandarkar's ambitious project Heroine, starring Kareena Kapoor in the lead role, is touted to be the biggest woman-centric film to get the widest release in the country. Heroine will be screened at whopping 2,400 screens!
Bhandarkar's earlier successful woman-centric production Fashion, starring Priyanka Chopra, Kangna Ranaut and Mugdha Godse was released across 780 screens in 2008. Priyanka's yet another woman-centric thriller, Vishal Bhardwaj's 2011 film 7 Khoon Maaf, was released in close to 800 screens in India alone.
The fact that Kareena Kapoor's Heroine is releasing across 2400 screens is big news, but it is definitely a ripple effect. It's been a slow and steady rise of the female lead actor at the BO that has helped Heroine get a big release. And this could boost the prospect a lot of other female-centric movies.
If trade reports are to be believed, even Salman Khan's Dabangg had enjoyed the opening of the same scale. Sallu's box office scorcher was released across 1,800 screens in India and another 300 screens abroad.
On the other hand, Shahrukh Khan's superhero film RA.One enjoyed one of the biggest openings of all time. It was screened across 3,200 screens in India and another 2,700 screens across the globe. By getting a release of that scale, RA.One broke the previous record held by Salman's Bodyguard. The Salman and Kareena-starrer had opened across 2,250 screens in 70 Indian cities and 482 screens were devoted to the masala potboiler overseas.
The huge release of Heroine is a sign that female actors are trying to catch up with the Khan clan at the BO. And if this Bhandarkar film works, it will initiate a new chapter for woman-centric film as far as commerce is concerned. More power to our heroines!