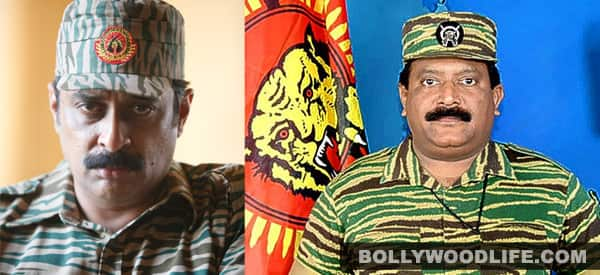 As if the Tamil outfit Naam Thamizhar's ongoing protest against John Abraham's upcoming political thriller claiming that it shows LTTE in bad light wasn't enough, an exclusive still from the movie has put the makers in a spot!
Last week we told you that a couple of Tamil activist outfits had claimed that Shoojit Sircar's Madras Cafe is set against the backdrop of the Sri Lankan civil war of the '90s showcases the Liberation Tigers of Tamil Eelam (LTTE) in a bad light. Reportedly, at the trailer launch of the John Abraham-Nargis Fakhri starrer, a huge crowd protested outside a venue in Chennai on August 5.
While the makers haven't admitted or denied the news publically, several political parties have raised their voice against the depiction of the LTTE. However an exclusive still of the movie states a different story! The still of Tamil actor Ajay Ratnam bears a close resemblance to late LTTE leader Velupillai Prabhakaran. (See pic!) Ratnam is seen in a uniform and sporting a similar moustache to what Prabhakaran used to wear.
"Madras Cafe is a work of fiction and I request all not to speculate," Shoojit clarified while talking to a newspaper. Hmmm… wethinks the character who bears a striking resemblance to the LTTE leader shouldn't really trouble the Tamil activists simply because lately we have had so many films modeled on the dreaded underworld gangster Dawood Ibrahim and actors sporting the most wanted gangster's ditto look. But who complained…?
In today's time when any publicity is good publicity, who will benefit from all this drama – the activists or the movie? We hope both!