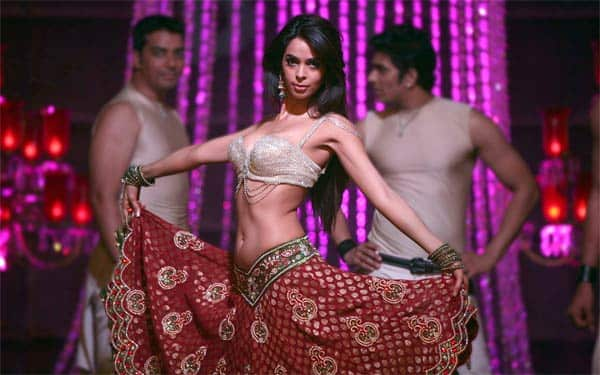 The Murder starlet desperately needs a hit under her kitty and Dirty Politics directed by KC Bokadia is her last hope. And that's reason we hear Ms Sherawat is ready to go to any lengths to make her upcoming and last Hindi film a hit
Mallika Sherawat has pinned all her hopes on her next and maybe her last film Dirty Politics wherein she plays a Rajasthani politician. Since the sexy siren is saree clad throughout the movie, the distributors aren't really happy. They feel the audience will come to watch the movie only if Mallika sports her sexy avatar. Therefore the makers of Dirty Politics have now decided to add a raunchy item number in the film featuring of course the LA girl. Remember she is living in Los Angeles and making it big in Hollywood? Another reason to up the oomph factor in Mallika's film is the fact that women-centric films based on political background haven't done well at the box office like Gulaab Gang and recently released Revolver Rani. In fact, the Hisss actor got so worried about the box office fate of Dirty Politics that she called up her director and said she is ready to anything to ensure the film works. A bit too desperate, no? We wonder what happen to her plans of making it big in the West.
While talking to a leading daily, filmmaker Bokadia said, "She (Mallika Sherawat) surrendered completely to my film and told me 'Bokadia saab, aapko joh bhi pehnana hai ya nahin pehnana hai, main sab kuch karne ko tayaar hoon.' This film will mark the return of Mallika Sherawat just as my Phool Bane Angaare brought Rekha back after some serious image damage." Wow, now that's not entirely shocking but a tad bit coz we thought this B-town beauty was doing fine in LA. Shooting for magazine covers and posing with Hollywood celebs at dos, Mallika was indeed making her mark in Hollywood, hai na? So what if it was just as a fan girl who went berserk every time she would spot a firang actor. At least it's better than going the dirty way in Bollywood. Frankly speaking wethinks Mallika's filmy career was long done and her new film isn't going to do any good for her. We say coz we really don't know who would want to watch a film wherein a saree clad politician suddenly turns a item girl and starts dancing in her tiny-winy clothes. In one word – that's a disaster.
As for KC Bokadia's statement about his heroine making a comeback like the B-town diva Rekha, we totally love his sense of humour and with it we certainly know to expect from his film.