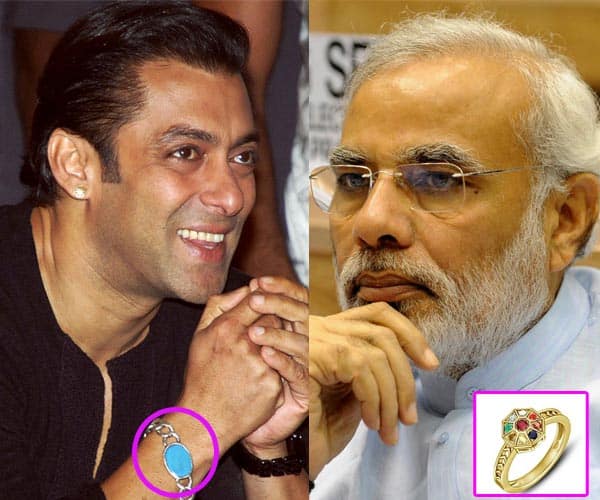 Wethinks the Kick actor should be worried coz his lucky bracelet has now got some competition
Bollywood celebs are known to be trendsetters. Whatever accessory they wear instantly becomes the fad. Hasn't Salman Khan's blue bracelet has become iconic amongst masses? In fact, you'll find most of his die-heard fans flaunting the same. But with Narendra Modi ring making its way in the market wethinks Bhai's bracelet will have a stiff competition. Yes, you heard that right! Modi sarkaar will complete 100 days in power tomorrow but we already have a ring named after him which is available on e-commerce sites.
What's interesting is that the ring is available in four different shapes and style – Multicolor Navratna Synthetic Gemstone Narendra Modi Ring in 925 Sterling Silver, Narendra Modi Vermeil Ring in Navaratna Multicolor Synthetic Gemstone, Narendra Modi Style 925 Silver Multicolor Navratna Synthetic Gemstone Ring and lastly Multicolor Synthetic Gemstone Navratna Narendra Modi Style Ring in 925 Silver.
While Narendra Modi fans will be happy to own these rings, BL readers you tell us – will Modi's ring become more popular than Khan's blue bracelet?