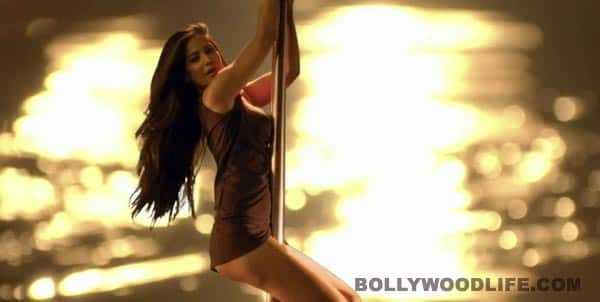 Here's a promotional song from Poonam Pandey's erotic movie Nasha. Take a look at the video and tell us if the babe has it in her to be a good pole dancer?
So will Poonam Pandey's match up to Sunny Leone's Laila act in Shoot Out at Wadala? After mastering the art of seduction and using it to her advantage, the dusky gal will sway in a pole dance number for her soon-to-be released movie Nasha. In fact, Poonam had also invited us while this special feature was being shot in a suburban Mumbai studio. Poonam arrived in a purple bathrobe and strictly meant business-she quickly dropped it to reveal the sexy bikini underneath, got straight to the act – gyrating around the pole like a pro! We had even presented the exclusive video just for you.
So, here comes the final cut of Poonam's steam song. While we think PP's Laila song is strictly ok, composed by Sachin Kulkarni and sung by Monali Thakur this number has a titillating flavour to it. Visually too there's not much that will surprise you. Even the effort to make this song glossy is very obvious if anything it looks tacky! The post-production team on this song needs to be reprimanded as you can actually see the chroma merge with Poonam's hair in close-up shots. This number could have been shot much tastefully with someone like Poonam on board. Poonam's relentless antics is the only saving grace of this otherwise thanda track.