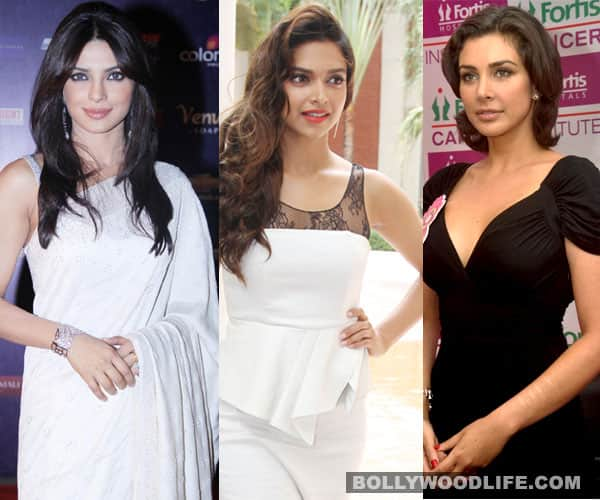 The Canadian babe will soon fly down to India to request some top-notch Bollywood heroines to give their mane for a worthy cause
When Lisa Ray was diagnosed with multiple myeloma three years back, the curvaceous babe was determined to defeat the life threatening medical condition with her sheer will power. Today, Lisa is proud that she fought the battle hard and come out as a winner, but she did lose her mane during the treatment.
Now she has a worthy cause on her mind, and to promote her unusual campaign all she needs is the long, beautiful tresses of our B-town actors. In fact, Lisa wants actors like Priyanka Chopra, Deepika Padukone, Shabana Azmi and Konkana Sen to come forward and donate their hair!
The Indo-Canadian beauty is heralding a campaign appealing to A-list celebs to donate their tresses to women who have lost their hair to cancer and restore their self-esteem. "Deepika and Priyanka are two of the popular faces of mainstream Indian cinema. They are beautiful and talented and very of the moment. These days B-wood actresses experiment with their looks for roles, experiment with their hair lengths. I would love to see them cut and contribute their locks for the cause of creating a real hair wig for a cancer patient. What a statement that would make!" said the Kasoor actor in an interview to a daily.
Lisa also believes that hair-donation is the easiest donation to make. After all, what you give for a healthy cause comes back to you sooner or later. "The thing about hair is it grows back! We really can afford to spare our hair for others. It also gives one a taste of what it's like to go through treatment. Can you believe some women won't even seek life-saving treatment due to their fear of losing their hair! We can help break this taboo. It just takes 8 inches of hair. My true purpose is to highlight awareness and invite people to care and act. As someone put it so well…not everyone has money to spare, but most have hair," she added further.
We really appreciate Lisa's initiative to come forward and change lives of many women with her campaign.