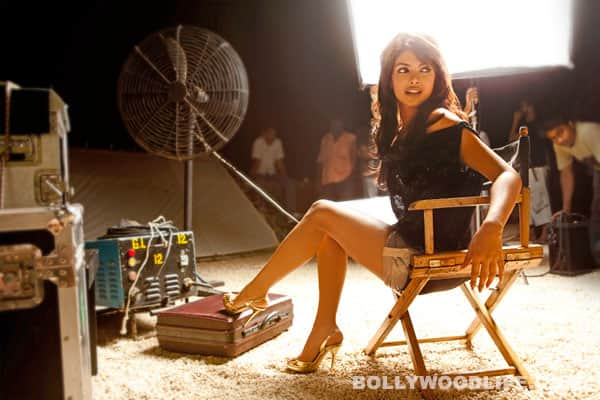 The Teri Meri Kahaani star has been bonding with international pop divas like Katy Perry and Lady Gaga. Will this camaraderie help the dusky beauty acquire global fame as a pop singer?
We know how much Priyanka Chopra's loves her music and we also know that the actor has never missed a single opportunity to display her latent talent whenever she has appeared on reality shows revolving around singing. Priyanka is now all set to release her debut album for which she has been making the rounds of Los Angeles.
The project features a mix of collaborators and aims to launch PC as an international artist. PC has been signed by Universal/Interscope via the East-West platform Desi Hits! Recently, Priyanka also became the first major Bollywood star to be signed by CAA and now going by the kind of company Priyanka is keeping these days, it's not hard to predict that she is eying international fame.
Her upcoming music album could be the passport for the Agneepath star to enter the International pop scene. We hear that PC is in constant touch with the global pop giant Lady Gaga, who was recently in India to perform at the glitzy Formula One event. And last week the dusky beauty took some time off to bond with singer Katy Perry.
The Teenage Dream singer was in Chennai to perform at the opening ceremony of the Indian Premiere League (IPL). After the ritzy show, PC took Katy out to experience an auto rickshaw ride in the city. They also lunched together and indulged in some shopping. Clearly, the two did some good girl-bonding. So influenced was Katy with PC's effervescence and affection that she could not stop herself from tweeting and displaying her love for the actor. Even before she left India, Perry had tweeted: "Lovely to meet you (Priyanka)! Can't wait to host you in Los Angeles… also can't wait to raid your closet." Priyanka responded saying, "For sure! And me yours for all your floral jumpsuits!"
Wethinks Priyanka does have the spunk and the personality of a pop star, and with loads of training and guidance we don't think it will be very difficult for Piggy Chops to cut a decent enough album. But what we really think might work in her favour is the image she is creating and the contacts she is building in LA even before the recording is over! Priyanka's next visit to the US, for her album, is slated for later this month. And considering PC's growing affection for her current girl friends, Katy Perry and Lady Gaga, it looks like PC is all set to enter the international pop arena. Way to go girl!