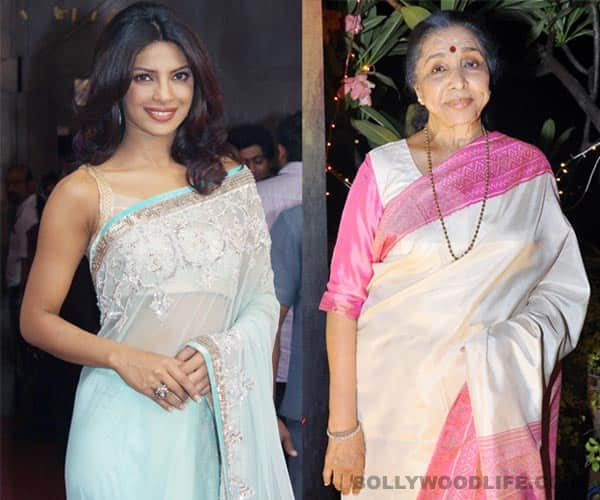 The Barfi! actor revealed to us details of an unofficial pact she has signed with the veteran singer
Priyanka Chopra is over the moon these days. Her latest movie release (Barfi!) is winning her stupendous critical acclaim and the news about her newly-launched single track In My City featuring will.i.am. has already gone viral on our favourite micro-blogging site. Many are already hailing PeeCee as India's first international music sensation. Incidentally, while Priyanka is making a swift transition from her acting domain to singing, there's someone from B-town who is keen to make a reverse changeover.
Legendary singer Asha Bhosle, who has more than 12,000 solo songs to her credit as a playback singer, is making her acting debut at the age of 79! The seasoned singer made sure that Priyanka watched the trailer of her upcoming debut Marathi film, Mai. PeeCee, who was excited about her album at the launch party, revealed that she shares a special bond with Asha Bhosle. In fact, the two lovely ladies have signed an unofficial pact. "I met Asha tai on a reality show. She blessed me and wished me luck for my music album. Now that she's (Bhosle) making her acting debut and I am making my debut as a singer, Asha tai told me I should teach her a lesson or two on acting and she will teach me to sing," said Priyanka
Now that's what we call a stunning association, the result of which – if it ever happens – should be equally mind-blowing!