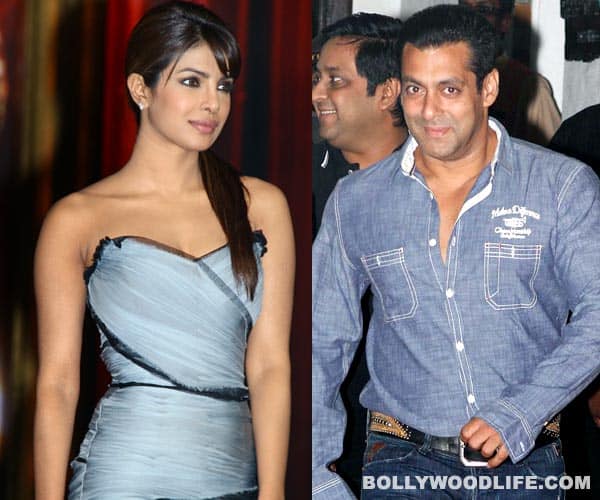 Director Sohail Khan's action flick starring the 'Tiger' of Bollywood now seems to have the 'Jungli billi' on board
Salman Khan's next Eid attraction Sher Khan has been in the news ever since it was announced. The only reason for this is Salman's recent track record at the BO. He has been churning out blockbuster after blockbuster, and is on top of the numbers game. Buzz is that his fans will pay just to see him fool around, serenade a pretty girl (preferably Katrina Kaif) and briefly go shirtless while beating goons into pulp (our exhibitor friend let us in on this secret…. shhh). While these are the constant features in a Salman film, the leading ladies keep changing.
And now comes the new flick from brother Sohail Khan. The latest buzz about Sher Khan is that it has been scrapped and Sohail is planning to produce the remake of South Indian flick Brindavanam. The news that is even more interesting is that Priyanka Chopra, with all her lobbying and befriending Sallu's sister, has bagged the female lead in Sohail's next. Now whether it is Sher Khan or the Brindavanam remake, only time will tell. But we must say that the late night revelry, posing for photogs and rubbishing link-ups as baseless rumours…it all seems to have paid off well for Piggy Chops. She had reportedly fallen out with 'Blockbuster' Khan many summers ago, but now to get back into the topmost league of B-town girls, Ms Chopra has to bag a plum project with him. Not just that, she also has to charm her way into an Aamir Khan project, a first for her. Phew… so much for staying on top of the numbers game!
ALSO READ: Priyanka Chopra voted Bollywood's biggest heroine!