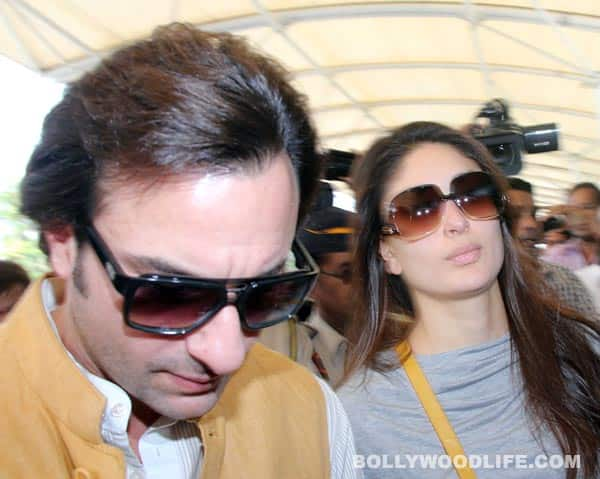 Saif Ali Khan and Kareena Kapoor are now officially married. The high profile wedding was celebrated in proper Nawabi style with much fanfare, but great elegance. But even before Saifeena finishes thanking people for their blessings, a leading Islamic seminary has decided to challenge the registered marriage…
By now everyone knows that the Cocktail actor's name reads Sajid Ali Khan and not Saif Ali Khan on the registered marriage document. No, don't worry, Kareena Kapoor did marry the right guy, just under his given legal name, that's why the difference! But if the Islamic seminary Darul Uloom is to be believed, Kareena has violated certain rules and regulations related to her marriage ceremony, which has irked some members of the Islamic institution located in Deoband, Uttar Pradesh. The organisation has expressed its grievances, claiming that the marriage of Saif and his ladylove is anti-Islamic, as the Hindu Kareena didn't convert to Islam before the ceremony. According to Darul Uloom, Islam doesn't approve of such relationships. Do you think Saif and Kareena care for such allegations? We don't! They seemed blissfully happy, with Kareena the blushing bride, Saif the chivalrous bridegroom and everyone they wanted present cheering them on through the registered wedding, the exchange of vows later that night and the elaborate walima in Delhi the next day.
But controversy and celebration apart, the couple has decided to put professional life before their personal needs. Kareena and new husband Saif plan to get done with their work commitments first so that they can fly to an exotic location to spend their honeymoon aaram se. We hear that the 'just married' duo is all set to rock the stage together at one of the most prestigious awards ceremonies to be held next week. Yes, you read it right! The newlyweds will be teaming up to perform together just a few days after the marriage rituals. Wow!
But the party will happen, don't fret. Saif will fly his new begum to Gstaad, Switzerland, in December for a belated honeymoon. In a recent interview Kareena described how she and her miyaan holiday very often in Gstaad, which is her favourite place to be, "home" in fact! (Remember Koffee with Karan?). They stay in a luxury hotel that is meant exclusively for 'royalty', where Saif has a permanent booking.
But once the honeymooning is done, the happy couple is expected to return to India by the first week of January, citing work commitments. Bebo will start shooting for Prakash Jha's Satyagraha in Bhopal, while Saif gets busy promoting his next thriller, Race 2, being touted as the first big multi-starrer release of the next year.
Now this is one hard-working jodi, no? Wethinks they deserve all the holidays…errr…honeymoons that they can make time for! You agree?