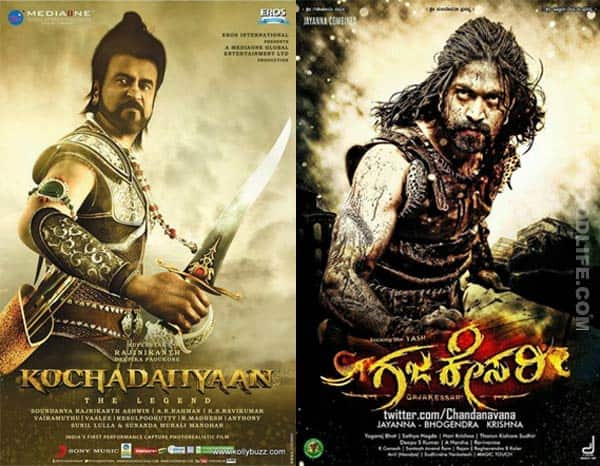 While Rajinikanth's Kochadaiiyaan's delay might positively affect the Bollywood films releasing this Friday, we wonder what will happen to the films releasing on May 23
Rajinikanth's Kochadaiiyaan was supposed to hit the theatres this Friday. However, just two days before the film's release the filmmakers decided to postpone the release date of Kochadaiiyaan yet again. This might be great news for the films releasing this week as their film's success won't be taken away or overshadowed by the Thalaivar. But now we hear that Kochadaiiyaan will release on May 23 which doesn't spell great news for Yash's Gajakesari which releases on the same date. Gajakesari was supposed to release on May 16 to avoid clash with Sudeep's Maanikya but its release date has been pushed further to May 23, we hear. We are sure the Kannada audience will be excited for Gajakesari, but does the film stand a chance against Rajinikanth's Kochadaiiyaan?
Also, the makers of Kochadaiiyaan are trying to block as many screens as they can in theatres, so we wonder if Yash's Gajakesari will be affected in any way. This was supposed to be Yash's biggest release ever but with Kochadaiiyaan hitting the theatre, we wonder what will happen. You tell us which film would you watch, Rajinikanth's Kochadaiiyaan or Yash's Gajakesari?