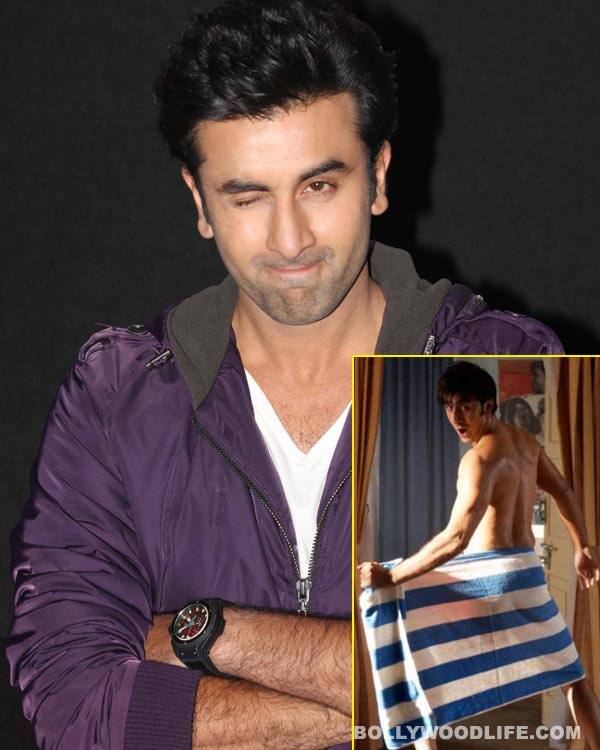 The Yeh Jawaani Hai Deewani actor is willing to do frontal nudity scenes. Now isn't that too much of a 'revelation' from the Kapoor lad?
Ranbir Kapoor is all set to do 'it' again! After showing his pert butt in Sanjay Leela Bhansali's Saawariya in 2007, the Kapoor scion is all set to show his skin once again. In fact the 30-year-old star will go a step further to showcase his masculinity and celebrate his manhood! The candid confession has come absolutely unabashedly straight from the horse's mouth.
Those who remember the honey-eyed star dropping his towel to reveal more than err we are used to will agree that Kapoor junior did the showcasing effortlessly. Girls went absolutely berserk with the new cutie that Ranbir was back then, both for his charm and his bold attitude. But wasn't the actor a bit uncomfortable doing the butt show? "There was not a moment of awkwardness when I did that scene in Saawariya. I was butt naked in front of strangers on the set and I wasn't ashamed of myself. People started relating to me and perhaps came to theatres because of that scene," said Ranbir in an interview.
Now that comment coming from an actor whose father Rishi Kapoor and grand uncle Shashi Kapoor too have done a butt show in their heydays is not really shocking. What is a bit surprising though is that Ranbir wants to go a step further. "I am shameless in front of the camera. I am even willing to do frontal nudity if the director wants me to," added the Barfi! actor.
Woo, now that's some food for thought for the collective naughty imaginations of Ranbir's female fan club. And they must let their thoughts run wild before the Kapoor boy ends up doing something that will leave absolutely nothing for imagination!