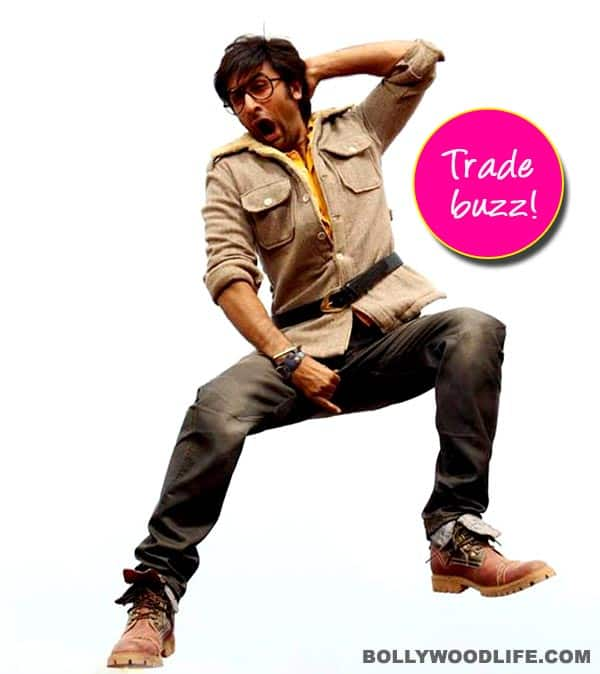 With his last film Yeh Jawaani Hai Deewani becoming Ranbir Kapoor's highest solo grosser yet, the actor has finally proved that he is not just B–town's Rockstar, but the youngest and 'biggest superstar' (as claimed by director Abhinav Kashyap). And industry experts are anticipating another blockbuster, wondering if Besharam can break YJHD's record at the box office…
Success is almost guaranteed for big (read: saleable) heroes like the super Khans – Salman Khan, Shahrukh Khan and Aamir Khan. Now, considering Ranbir Kapoor's last commercial success earned Rs 100 crore plus, Yeh Jawaani Hai Deewani, the Kapoor lad too has successfully added his name to the list of B-town's most bankable actors.
Filmmakers have often cashed in on public holidays to boost their films' prospects at the box office. Similarly, the makers of Besharam – producers Reliance Entertainment and director Abhinav Kashyap are pinning their hopes on a national holiday (October 2 Gandhi Jayanti) and plan to release their film on Wednesday. With YJHD being one of the most celebrated money spinners in India and on the overseas circuits, Besharam could possibly smash Ranbir's record at the ticket counters.
"Ranbir enjoys a good following in the domestic and overseas markets – the prince of both, just a notch below the respective box office kings Shahrukh Khan and Salman Khan! As for Besharam, the coming together of the star of Yeh Jawani Hai Deewani and the director of Dabangg Abhinav in itself is a big deal and is bound to get a huge chunk of moviegoers excited," says exhibitor-distributor Akshaye Rathi.
"Besharam is Ranbir's first attempt at absolute mass appealing masala cinema. The songs are not bad at all, but not each one of them is a chartbuster either, like was the case of YJHD. I'm sure Besharam will do well, but the mixed response to the promos and the poor marketing (so far) may not allow it to have the legs of YJHD," adds Rathi.
On the eve of Ranboo's 31st birthday (September 28), Bhavikk Sangghvi predicts what the future holds for the charming Besharam actor: "Ranbir is a Number 1 (Sun) person in numerology who wants to be an 'ace' in whatever he does since he is ruled by the most powerful star, Sun. The Venus effect makes him lovable and wanted while Jupiter will help him amass wealth," predicts Bhavikk.
"Ranbir will now be entering the 32nd year of his life which indicates that his current great phase is likely to continue – both on the professional as well as the personal front. Besharam will do such fantastic business that it will put his contemporaries to shame (pun intended). He will once again deliver outstanding performances in Roy and Bombay Velvet and shall reap awards and rewards for the same," he adds.
As far as his personal life is concerned, Sangghvi foresees, "As for his equation with Katrina Kaif, 2014 will prove extremely lucky for him and Katrina Kaif and hence they should finally come out in the open and declare their affection for each other in public, as the timing will just be right. I would advise him to spell his name as 'RANBIR R. KAPOOR' and wear a yellow sapphire to be set in gold on his right hand index finger on a Thursday evening (one hour before sunset) to help him stay focused, and gain better clarity of mind and right decision making," recommends Bhavikk.
So BollywoodLifers, do you think Besharam can live up to its BO expectations? Will Ranbir give himself the best birthday present – a new record at the box office?