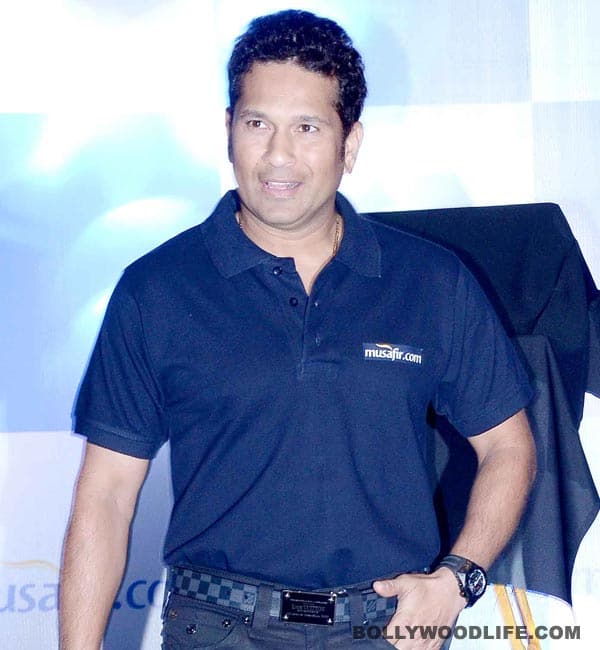 The Master Blaster will hang up his boots after playing his 200th test match in Mumbai. While his fans are reeling under the shock of his retirement, wouldn't it be interesting if he switched from the cricket field to the big screen and continue entertaining us…
Every time Sachin Tendulkar walks out on to the field, he gets you hooked to the television set. Even if he is not playing and just giving an interview, he is magnetic. There is no denying the fact that he is the only real superstar in the world of cricket. And though the Little Master claims that he doesn't know anything besides playing his game, wethinks he can easily enter filmi duniya…and he should. Here's why …
Entertainer – Remember Vidya Balan's famous line, 'Filmein sirf teen cheezon ki wajah se chalti hain… entertainment, entertainment, entertainment… Aur main entertainment hoon' from The Dirty Picture? Well, Tendulkar's experience is mighty good when it comes entertaining, hai na? He has been doing that for at least 15 years. If he can do it on the field, he can do it onscreen too!
Camera friendly – Just like Bollywood stars, cricketers are used to facing the camera all the time. So the transition from cricket to films shouldn't be hard, wethinks!
Height – If you're short, Bollywood is the best place to be. We say so coz all the ruling Khans – Aamir Khan, Salman Khan and even Shahrukh Khan – aren't too tall, nowhere near the altitude of Abhishek Bachchan or Hrithik Roshan. But that has worked in their favour. In this case, Sachin already has an upper hand, right?
Loyal fans – Tendulkar has a huge fan following not only in India, but around the world. So the makers can cash in on his popularity and the cricketer doesn't have to worry about his the box office fate of his films.
Cute quotient – We know you agree with us on this. His smile, that curly hair and the innocence on his face does make him look ultra-cute. As far as his voice is concerned, it can always be dubbed – and his friend Aamir can help him on how to deliver performances that are taller than his height.