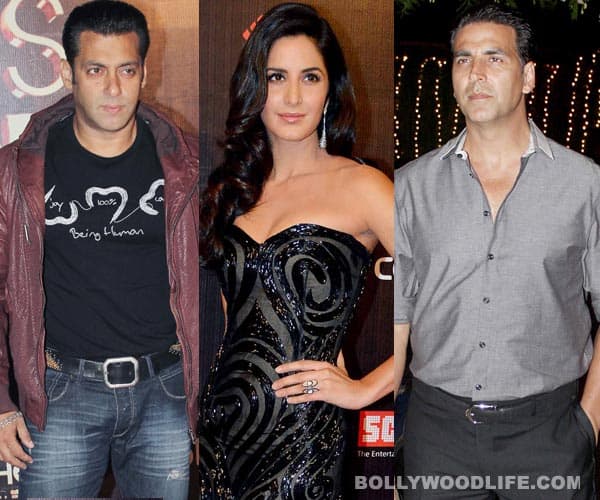 Filmmaker Dibakar Banerjee is hunting two heroes to essay Dharmendra and Sanjeev Kumar's roles in his remake of the 1972 hit film
Considering Katrina Kaif's success ratio, any A-league hero would jump at the offer of sharing screen space with the leggy lass. But this time, filmmaker Dibakar Banerjee and Kat are finding it difficult to get saleable heroes opposite the babe in a movie! Don't be surprised, there's a reason. The Ek Tha Tiger actor had agreed to reprise Hema Malini's role in the Seeta Aur Geeta remake few months ago, and since it's a female-oriented film, no hero is willing to participate.
Salman Khan and Akshay Kumar are being considered for the role of Sanjeev Kumar and Dharmendra respectively, but that's only if they agree. Reportedly, the double role played by the Chikni Chameli girl would be different from what B-town's dream girl Hema Malini metamorphosed many moons ago. Seeta would be a dark, reserved character with suicidal undertones while Geeta will be a bindaas working woman in a corporate set-up.
Considering nothing more than the lead has been finalised and revealed yet, we hope the makers do justice to the remake. Since there are a lot of impending jinxed projects in B-town, we hope Seeta Aur Geeta doesn't turn out to be one of them! But tell us, would you like to see Katrina as Seeta and Geeta in the remake? Also, do you think she would be able to replicate the same magic created by Hema Malini?