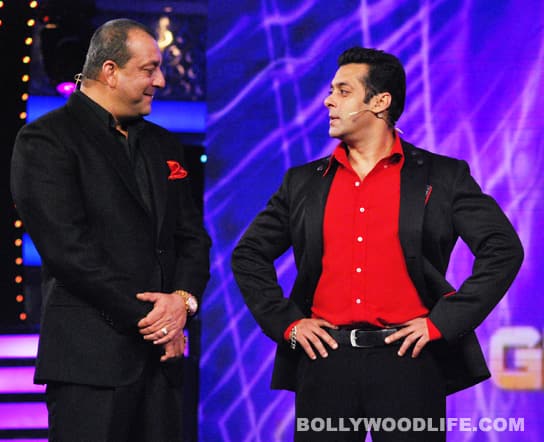 Speculation has been rife ever since they mentioned the show during the grand finale of Bigg Boss 5
Will they or will they not? That's the question as far as our own Bollywood princes Salman Khan and Sanjay Dutt are concerned. Gossipmongers are having a field day speculating whether he will host Bigg Boss 6 on Colors, but we can't blame them as Sallu bhai and Sanju baba brought it upon themselves. While bidding adieu at the end of the Bigg Boss 5 grand finale, Salman announced that he and Sanjay Dutt will come together again to host Bigg Boss 6. Salman had hosted Bigg Boss 4 and when you couple that with the fact he will host 10 Ka Dum on Sony, a rival channel of Colors, it was doubtful if he will agree to host BB 6. In fact, representatives of Colors claim that Salman has not been confirmed yet for BB 6.
As for Sanjay's participation, well, you will surely agree that he was really not in form hosting BB 5. He seemed ill at ease and only too happy to let Salman take centrestage every time. Maybe he will do better next time around, maybe he won't but will he be given the chance to try? There was also a buzz doing the rounds that Colors is looking at having a female host the show – the only one to do so was Shilpa Shetty during season 2. So it looks like the channelwallahs and Salman have different views about his role in Bigg Boss 6 and it will be interesting to see how this one plays out.
ALSO READ: Did Malaika Arora Khan annoy Salman Khan? | Rakhi Sawant pokes fun at Mahesh Bhatt's visit to Bigg Boss 5 house