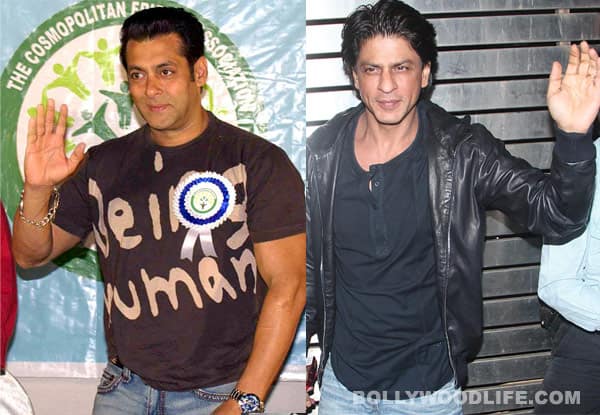 Our tarot card reader tells us if the two stars will reconcile their differences in the future
There are two important and obvious factors in this question – Salman Khan and Shahrukh Khan. Do both these former friends even wish to be friends? What's actually going on in their minds? And how do they feel?
Both actors, like the Queen of Cups and the Empress are overly passionate and emotional people. They do seek to heal their emotional wounds, but are not sure how to go about it.
Salman Khan
The combination of the Ten of Swords and Ten of Wands seems to show the hurt, disappointment and burden Salman carries towards this whole situation. He hasn't been able to truly express what he feels and therefore carries a lot of anger within him. And he is probably ready to express this now. Despite this, his family have a very calming influence on him – they don't add fuel to fire. Instead, like the Two of Wands, they keep him grounded and do their best to guide him well.
Currently, Salman does prefer to continue the distance, but fortunately, the Ace of Wands indicates, that in the future there will be a part of him that will wish to reconcile. But that's quite into the future!
Shahrukh Khan
Shahrukh has the Judgement and the Ace of Wands gracing him, which reveals his desire to take initiative in resolving this. But what stops him? It's those around him. The Three of Swords explains that he is discouraged by friends and family as they fear that it will all go wrong again. The Two of Swords does warn that any thoughts from Shahrukh to improve the relationship will not work because the main issues will not be addressed properly.
The Four and Five of Swords clearly indicate that both these actors lack proper communication. They won't say and understand what is required – they will decipher their own meaning rather than truly hearing each other out.
In conclusion, Salman will want to be friends at some point and Shahrukh does wish to be friends. Even though their own intentions are so clear, they need a lot more healing if they ever want to restore their friendship. There's still a long way to go.
Learn more about our tarot reader Shruti Chopra
ALSO READ:
Will Madhuri Dixit-Nene make it big in Bollywood again?
Will Aishwarya Rai Bachchan resume her acting career this year?
Shahrukh Khan, Salman Khan, Aamir Khan, Akshay Kumar: Who will 2012 belong to?