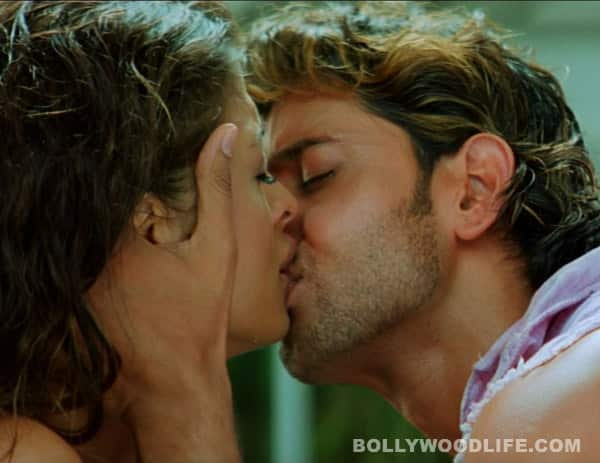 skip advertisement
Aamir Khan, Hrithik Roshan, Saif Ali Khan, Akshay Kumar, Emraan Hashmi, Ranbir Kapoor – they have all been doing it from the very beginning. And now even Shahrukh Khan, much to our surprise, did it in his latest release, Jab Tak Hai Jaan. Why then is Salman Khan the only B-town superstar refusing to lock his starry lips with his heroines?
In an intensely romantic scene in Yash Chopra's latest release Jab Tak Hai Jaan, Shahrukh Khan approaches Katrina Kaif quietly but steadily at a deserted metro station in London. The two come too-close-for-comfort and SRK grabs his lady-love hastily. And then the never-seen-and-never-done-before in a Shahrukh movie happens….the King Khan, who is known for NOT kissing his heroines on the big screen, plants a brief peck on Kat's luscious lips.
Now this is quite a feat for the man who has been maintaining all these years that he's not comfortable kissing onscreen. But with that sweet smooch, SRK has certainly broke in to the league of men who have locked lips – or at least touched lips – with their onscreen ladyloves. Aamir Khan, Abhishek Bachchan, Hrithik Roshan, Imran Khan, Emraan Hashmi, Akshay Kumar, Saif Ali Khan, Ranbir Kapoor and most other B-town heroes have no problem snogging for the camera.
And now only one superstar is making his absence conspicuous in that list – bhai aka Salman Khan has never indulged in a lip-lock, never on the silver screen, at least. Surprisingly, Sallu's former flame Katrina Kaif has been effortlessly giving and receiving a bouquet of kisses from the dishiest of B-town hunks on a regular basis. But Salman has never got a single kissie from the leggy lass…not that we have been allowed to see!
While you ponder this intriguing fact, we revisit some of the best known kisses of recent times and track down the lip-locking history of the current crop Bollywood heartthrobs…..