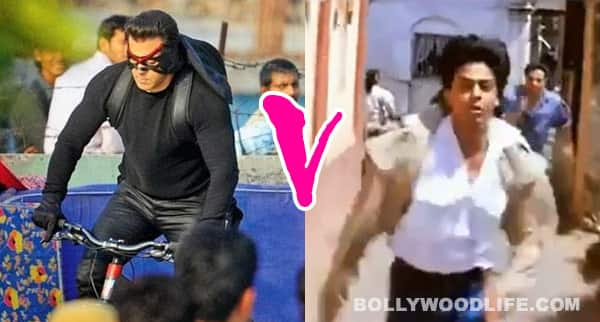 The Jai Ho star is all set to approach the Limca book of records to challenge SRK's record. Read on to find out all it…
Shah Rukh Khan's chase sequence in the film Darr had been holding the film industry record for the longest chase sequence. But not any more. It seems Salman Khan is all set to break that record in his upcoming flick Kick. It has been heard that in Sajid Nadiadwala's film, the Dabangg Khan has a long chase sequence that is shot in Delhi. Some glimpses of the chase sequence can be seen in the trailer of the film.
Sallu miyan plays a devilish yet very stylish character in the film. There are a couple of chase sequences in the film on various vehicles; bicycle, modified bike and a double decker bus. But this one, shot in purani Dilli is more complicated as it had to be shot on busy streets and narrow lanes. It involved complex stunts like Salman doing wheelie and jumps with the bicycle. Salman's fans will be treated to Sallu bhai doing some unusual stunts at many landmark places in Delhi where they shot this chase sequence.
There were multiple cameras that were set up, some on the terrace of buildings as well to get the shots right. The production team is so excited about this sequence that they are wanting to approach the Limca book of records to officially hold the record. However, since they are extremely busy with promotions and post productions work now, they have decided to do it sometime post the release of the film.
Now we can only hope that with so much effort put in by the production crew, this chase sequence surely enters into the record books. Hai na peeps?