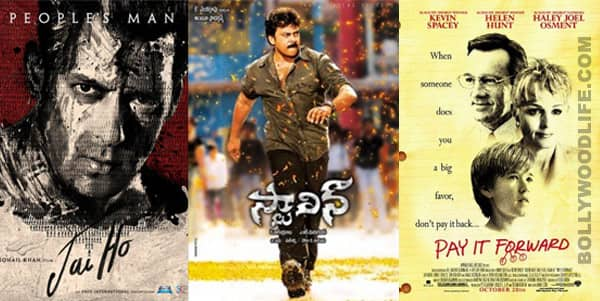 Here's some goss about the Dabangg dude's much talked about upcoming film Jai Ho
Salman Khan's fans are waiting eagerly for Jai Ho, which is likely to release next month. Considering that Dabangg Khan didn't have even one release this year, his fans are all the more excited for Jai Ho. Whether it was the film being renamed from Mental to Jai Ho or the release of its first poster, Sallu's fans have been constantly watching the progress of the film. Everyone knows that Jai Ho is a remake of Chiranjeevi starrer Telugu film, Stalin. But did you know that, Stalin itself is quite similar to Kevin Spacey's American film Pay It Forward? So, is Salman's film is actually copied (aka inspired incase they haven't bought the rights) from a Hollywood film?
In Stalin as well as Pay It Forward, the plot revolves around making the world a better place to live in by using a charitable plan. According to the plan, if one does a good deed, the recipient is supposed to pay the favour forward to three other people. Anyways, copied or not, inspired or remade, do you think Salman Khan's Jai Ho will outdo Chiranjeevi's Stalin and Kevin Spacey's Pay It Forward?