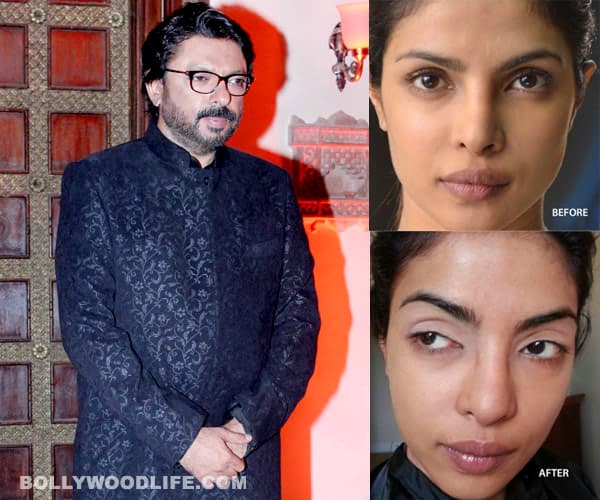 BollywoodLife was the first to 'reveal' how the makers of Priyanka Chopra's Mary Kom biopic ignored calls and mails from an American makeup artists after using his services. Such was the impact of our zordaar story that Mark has now been contacted by the production house, possibly for settlement of his dues
We were shocked to find out that Hollywood makeup artiste Mark Garbarino never received payment for using his skills on Priyanka Chopra's fiercely-guarded look for Sanjay Leela Bhansali's new production. The LA-based Mark contacted us saying that even after working on Priyanka's look and using expensive material to transform PeeCee into a girl from Northeast India for a look test, he never got his payment. Priyanka is playing boxer Mary Kom in the movie and prosthetic makeup was needed to give Piggy Chops the look she would need. The 31-year-old star was flown to LA earlier this month where a look test was conducted on her. Garbarino even worked on PeeCee's facial features and made her look the part of the Olympic medal winner.
Though the makers of the movie, we hear, have decided to opt for VFX instead of prosthetics now, they conveniently chose to ignore Mark's calls and emails and refused to acknowledge him, leave alone pay him. The annoyed gentleman leaked the pictures to us and we did that 'revealing' story.
And now that the news and Priyanka's pictures are out everywhere, Blue Lotus Productions has contacted Mark, possibly to settle the issue….we hope so. "For the first time in ten days, Mr Saiwyn Quadras (from Blue Lotus) contacted me. I will let you know how and if this matter gets resolved," said Mark in his mail to us this morning.
He even gave his opinion on the makers of Mary Kom's biopic resorting to digital technology and Computer Graphics Imagery (CGI) instead of prosthetics and makeup. According to him, "Using CGI for a makeup substitution will most likely result in comical results. I hope for Priyanka's sake they forgo using any changes to her eyes, and focus on the fight trauma, if anything."
We don't know how believable Priyanka will look in her Mary Kom avatar, but that is another story. For now, we hope that Mark gets paid for his work soon!
ALSO READ: Did the maker's of Priyanka Chopra's makeup artist cheat a US-based makeup artist?