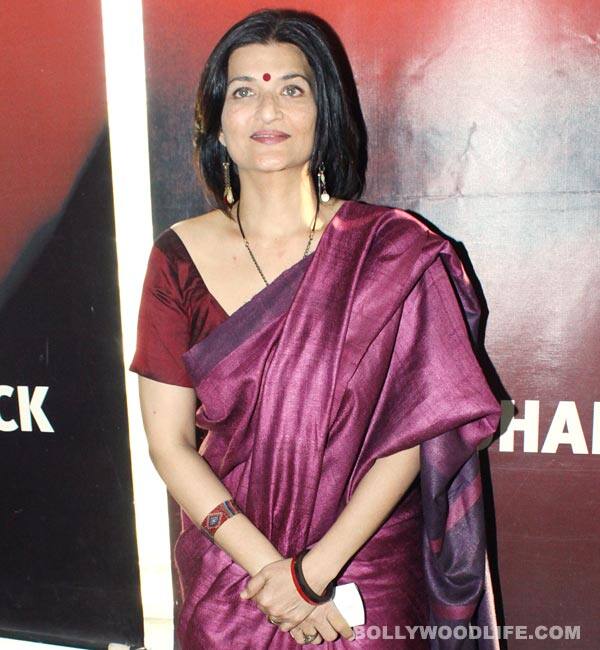 The '80s popular actor shows off her naughty nakhras and aahein bhari adaas for an item song in Bejoy Nambiar's David!
National Award winner Sarika, who makes once-in-a-while appearances on the big screen, will be back to surprise her fans again. Remember her short but impacting roles in films like Bheja Fry, Parzania et al?
This time the 50-plus actor has done a similar short but shocking role of an item girl in the new age version of old Sufi Qawwalli song Damadam mast kalander, for Bejoy Nambiar's next film David.
In his first feature film Shaitan, the young filmmaker interestingly juxtaposed two other oldies – Khoya khoya chand and Hawa hawai – in the background score, remember? Clearly, Bejoy's one serious old film songs buff, eh?
Coming back to David, Bejoy got the veteran leading lady to do an 'item song' for the Hindi version of his bilingual (also being made in Tamil). But not the Chikni Chameli, Munni badnam, Anarkali disco chali kinda song, Damadam is a classic and colourless (shot in black and white) dhinchak dance number. Our Buddy the Birdie told us that since the director couldn't get a choreographer to make Sarika dance to his/her steps, the danseuse chose her own moves to match the beats.
And Bejoy's pretty pleased with the item song informed BB. But there are two reasons behind the director's happiness. One: he got Sarika (he had approached her to play the female lead role, but she refused it so now Lara Dutta is doing the film) to feature in the song. Second: the item song looks smoking hot!
Let's wait to watch if it is as hot as the director thinks it is. For us, it simply means that the veteran's item song could steal the thunder of the current item queens!