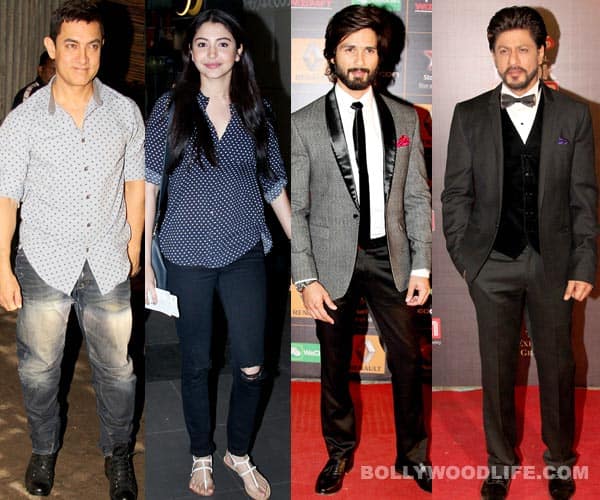 There's no hiding the fact that Bollywood loves cricket, and when two historically arch rivals are pitted against each other, we wonder if any cameras would role in B-town today!
That Shahrukh Khan, Aamir Khan, Shahid Kapoor and Anushka Sharma (for obvious reasons) are big cricket fans, is stale news.
But with the shooting of Happy New Year, Satyamev Jayate's premiere episode and Bombay Velvet being in the pipeline – what will these Bollywood biggies do – watch the Asia Cup India v/s Pakistan match or shoot their films?
SRK is biggest star associated with cricket – he owns an entire IPL team, Kolkata Knight Riders and is right now shooting for Farah Khan's Happy New Year. But we won't we surprised if we get his tweets of cheering the Indian cricket team, no? Even Aamir has a tough choice to make. Why, you ask? Well, today is Satyamev Jayate's premiere and we all know how much effort Aamir puts in, in every episode. For all you know, we might just see  him sporting Satyamev Jayate's t-shirt while he watches the match. Isn't this just the best way to promote the show?
Now coming to Anushka, who is associated with the current biggest hottie of the Indian cricket team Virat Kohli, will surely not be shooting for her film Bombay Velvet. After all even Virat, who has replaced MS Dhoni will surely need her ahemm… girlfriend's support, wink!
Sasha too has been a big fan of Sachin Tendulkar and the Indian cricket team. So much so, that when Sachin was playing his last match, Shahid had stopped promoting R…Rajkumar and had reached the stadium to watch the match for supporting him. Khabar is that Shahid has taken a break from Haider's busy schedule and we're sure that we will see him in Mirpoice to make ur cheering for the Indian Cricket team.
Well, the match starts at 1.30 pm and all we have to is wait to see who turns up at Mirpur to watch the match and who doesn't. Keep watching the space for updates.
Catch the Live Score of India vs Pakistan Asia Cup 2014 Match here 
For updated points table and team standing for Asia Cup 2014 tournament click here