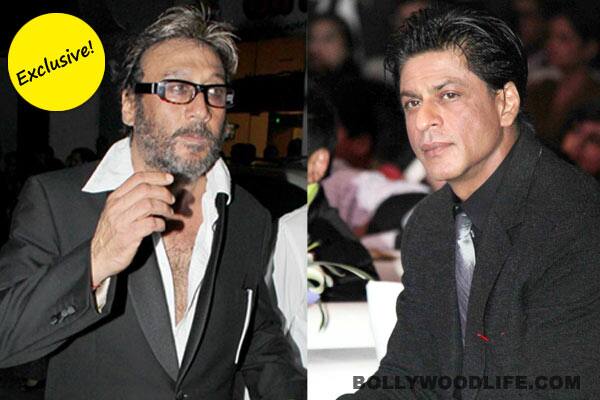 It was King Khan meets King Uncle on the set of Rohit Shetty's Chennai Express at Mehboob studios and some hush-hush discussion happened. Hmm…was it about the two doing Farah Khan's Happy New Year? Apna bhidu gave us a hint.
The shoot of Rohit Shetty's Chennai Express starring Shahrukh Khan and Deepika Padukone was in full swing at Mehboob studios by the end of last month and we hear that Rohit wants to complete the film as quickly as possible. It was on a very busy day when apna Jaggu dada landed at the studio, greeted SRK and hurried into the superstar's van with him.
They worked together for the first time in Rakesh Roshan's King Uncle almost two decades ago, and Jackie Shroff and Shahrukh Khan were also seen in Subhash Ghai's Trimurti, and Sanjay Leela Bhansali's Devdas. When we asked Jackie whether his meeting with SRK had anything to do with Farah Khan's Happy New Year, he didn't disagree, but gave us some exclusive information. "Yes, Farah has spoken to me about some film. I'm in Chandigarh right now. We'll sit for the story narration once I'm back in town." The generous actor who took some time off from his hectic shooting schedule to chat also said, "I'll hear the script and take a call. I don't know what is the genre and anything about the film, but I genuinely hope the script will be interesting enough, considering it's Farah Khan. Farah ko kaun na bolega, bhidu? I'm also looking forward to it because it will give me an opportunity to work with Shahrukh, whom I've always considered to be my younger brother. We bond very well."
We understand that for Jackie it's too early to comment on the project, but if the sources close to Farah Khan are to be believed, there's a strong indication that Jackie will star in HNY. Remember, we were the first to reveal Farah's ambitious film plot – basically about a bunch of male friends forced to participate in a world dance championship. How could we not connect that with Jackie laughing, "Farah wants me to do some naach gaana in her film. I wish her all the best, considering I know how good a dancer I am!"
As of now we know that SRK, John Abraham, Boman Irani and Abhishek Bachchan are supposed to play the four buddies. Will Jackie join the club? Only time will tell, but one thing we know is that Farah's film will be a laugh riot, intentionally or not, since none of the actors are exactly famous for their dancing skills onscreen. What say, readers?