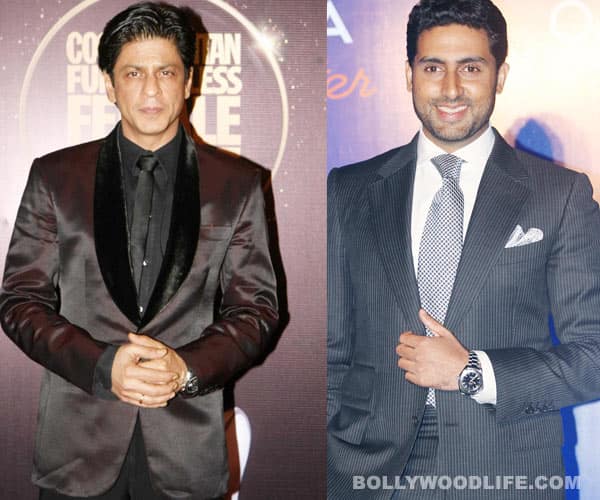 After working in Karan Johar's unconventional emotional saga Kabhi Alvida Naa Kehna way back in 2006, the two stars will be sharing screen space in Farah Khan's forthcoming film. Will SRK yet again be the biggest draw of the film, completely sidelining junior Bachchan?
Those who went to catch  Kabhi Alvida Naa Kehna – Karan Johar's take on extra-marital love equation- primarily swarmed the theatres to watch Shahrukh Khan. Though the film had the commanding presence of Amitabh Bachchan and also featured Rani Mukerji and Preity Zinta, not many really went to see Abhishek Bachchan's execrable dance moves or his average acting skills. Shahrukh Khan was the biggest attraction and young girls swooned over him, even though the Badshah of Bollywood played a limping gloomy man. SRK's character had shades of grey, yet he completely overshadowed AB's baby in the Karan Johar production.
And now we hear both Shahrukh Khan and Abhishek Bachchan are coming together for Zoya Akhtar's upcoming film Happy New Year. We know that after delivering two major duds – Raavan and Players – at the box office, Abhishek badly needs a hit. Perhaps Junior Bachchan is aware of the fact that when one does a film with SRK, the possibility of one getting overshadowed because of SRK's starry allure is very high. But one can't also deny the fact that Shahrukh is synonymous with commercial success. His films eventually mint money at BO and garner eyeballs. Abhishek, wethinks, has to take his chances here and hope to get his share of attention in the bargain. What do you think?