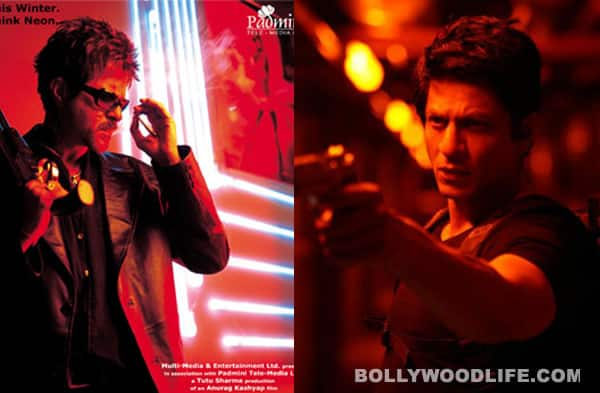 Remember that ambitiously announced project featuring a blonde and booted Anil Kapoor? Is Anurag Kashyap reviving it, with SRK in the lead instead?
When the rumour about the revival of Alwyn Kallicharan floated in through our window, we decided to ask the man responsible for the project, filmmaker Anurag Kashyap about his plans in that direction. After all, it has been a decade or more since the movie vanished into nowhere after full-page posters were published in leading newspapers, featuring a blonde, bristly and booted Anil Kapoor as a corrupt cop. So was it true that Kashyap was going to make the film at last, this time with Shahrukh Khan in the lead?
Anurag got chatty and confessed that he did meet SRK on a couple of occasions, very briefly, but had not discussed any script with him…not yet. Kashyap also felt that Allwyn Kallicharan was no ordinary film and would require a mega-budget. It's not new that Anurag and Shahrukh have wanted to work together for a while now. This is, Kashyap says, one of his dreams – another, that of working with Amitabh Bachchan, came true with Bombay Talkies. If he does indeed want to work on Allwyn Kallicharan, we think that SRK would be the perfect choice for his protagonist, especially considering the fact that King Khan loves to experiment with larger than life films (remember RA.One?) and is more than comfortable with enormous budgets. And there is something else – now that Anurag is a saleable director, particularly after Gangs of Wasseypur, the A-list actors will have no reservations about teaming up with him, wethinks.
Just to remind, you, Kashyap said some years ago, "Allwyn Kalicharan got shelved because the hero Anil Kapoor developed cold feet at the last minute. First he said he loved the script, but later got insecure about the other actor's role. And he didn't have the guts to come and tell me that. He just kept postponing it and at the end I understood his game plan and decided to abandon the project altogether. I suffered a lot because of Anil Kapoor and I will not forget it. I don't think I will ever work with him. I tried to get in touch with him, but there was no response from him."
While we do not have Anil's version of the story, we know that this is now ancient history. For now, we are dying to know whether SRK and Anurag will finally come together to make an old dream a new success!