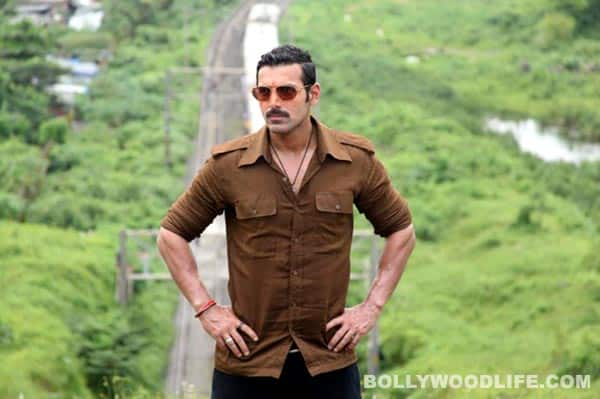 Called 'expressionless' and 'wooden', John Abraham has collected disapproval and wrath from his own fraternity. Things could be changing. As Shootout At Wadala gets set for release, we wonder if B-town's haute hunk will manage to change the perception of his acting skills with his role as Manya Surve…
Bollywood is a tough place to survive in, let alone rule. Anyone who has been a part of the industry can vouch for this. Don't let the glam and glitz of showbiz confuse, affect or absorb you is the rule, because behind the lure of arc-lights and temporary highs of stardom, it's a cut-throat business. This is an industry where everything except for ambition and a solid game plan takes a backseat. One wrong move is all it takes to push you out of the race to the top.
And who could understand this better than John Abraham? Unlike his arch-rivals today, he neither had a sugar-daddy to mentor him, nor did he have a filmmaker as his best buddy to offer him work on a platter. John simply made the best of opportunities that came his way. With films like Madras Café (which he's also producing), Welcome 2 (if he agrees to reduce his price!), Dostana 2, No Smoking 2 and Hamara Bajaj, the haute hunk is still being snubbed by a certain section of Bollywood, though less so now, after the success of Vicky Donor and the accolades he garnered for New York and Force! As John continues with his struggle, there are some from the fraternity – especially those who have worked with him – who sing praises for the actor.
"John Abraham is one of the most perfect good looking action heroes we have in Bollywood. He's like the popular Hollywood actor Vin Diesel (Fast & Furious and Saving Private Ryan fame)," says Dhoom director Sanjay Gadhvi, who directed the film that made John an action star. "John is very professional, listens to his director, improvises a lot and gives his best shot. The progress from Dhoom to Shootout At Wadala has been just terrific. I hope SAW proves to be a big success for John and everyone associated with it. I personally feel John should indulge into doing films like Force, SAW though I did like his work in Zinda and Dostana. Considering his brawny physique and vulnerable face, he should do more action-based films like what Arnold Schwarzenegger did in his time."
Nishikanth Kamat, director of Force says, "From the promos, SAW looks like a good entertainer. I hope John has done a fabulous job as Manya Surve. I'm sure the film will take John to the next level. He's one of the finest actors we have today." Whereas Vivek Agnihotri, director of the John Abraham-Arshad Warsi starrer Dhan Dhana Goal feels, "John has come a long way. He is an extremely sincere and hardworking film star. John has personality and charisma and he is a self-made man. As far as SAW is concerned it will be interesting to see such a great looking guy in such a role. I wish him all the best."
Our trade expert Akshaye Rathi states, "SAW is a huge contrast from the roles that John has played over the years – from the cool, urban metrosexual to a raw, tough gangster from the streets of Mumbai. He has always added tremendous value to films in which he was a part of an ensemble cast / a parallel lead (Housefull 2, Desi Boys, Race 2 etc) and these films have done well at the BO too. SAW is a reservoir of acting talent with fabulous performers like Anil Kapoor, Manoj Bajpayee, Sonu Sood, Ronit Roy, etc teaming up to deliver a stylish, but massy entertainer. If supported by great promotions (which Balaji Motion Pictures has always been good at) the film has what it takes to rake in some serious money at the BO!"
Director-producer Vipul Shah too can't stop raving about the beefy hunk. "John is the most underrated actor in the industry. If John is given the right script, he will dish out a fantastic performance," said the filmmaker in an interview. Though SAW is a complete John Abraham-centric film, the actor is still nervous. But wethinks with a strong real-life character – Manya Surve – to portray and good promotion, things will certainly turn in John's favour because luck, as we all know, favours the brave!