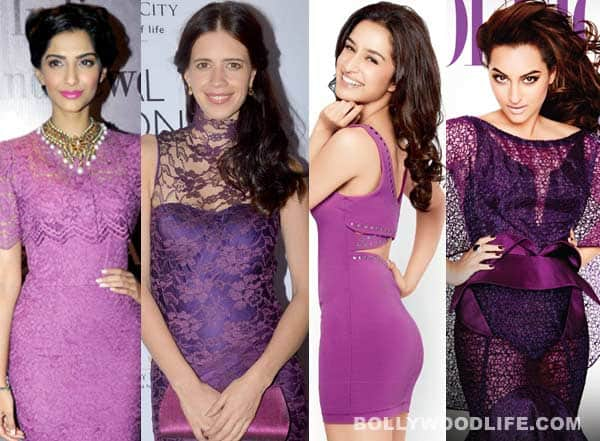 skip advertisement
Sonam has impressed us all with her unique dressing style in 2013. Will she continue to do so in 2014? And who else will join the list?
Pantone has named Royal Orchid the colour for 2014. The hue is not only pleasing to the eye, but also looks classy and so young and fresh. With this as THE colour of 2014, we're sure we will see a lot of Bollywood divas wearing it, especially since the shade is certainly flattering to the Indian skin tone.
Take a look at celebs who were seen in the colour in 2013 (or at least something close to Royal Orchid). We're sure the beauties who already have the violet-pink hue stocked in their closets will impress us even more with it in 2014. Sonam Kapoor, Alia Bhatt, Shraddha Kapoor, Sonakshi Sinha and Kalki Koechlin have been spotted in different shades of radiantly regal orchid. Have a dekho….
The Kapoor lass – not Shraddha, for obvious reasons – who is known for her fashion statements was seen in a lace Dolce and Gabbana dress of the perfect dusty fuchsia pink. Though we aren't quite a fan of the retro look, we're sure Sonam will up her glam quotient in 2014 with orchid coloured outfits. At a recent event, Kalki Koechlin was spotted in a lacy frock that was a few shades darker than Sonam's. Kalki looked quite pretty in that rosy hue. Alia, Shraddha and Sonam were spotted in different tints of Royal Orchid too, but for photoshoots, not in person. The Highway actor looked quite hot compared to the other two. Shraddha was cute in a pretty lil dress. However, Sonakshi's outfit was disastrous and if she plans to flaunt this hue again, she'd better choose a cooler outfit for it!
So BollywoodLifers, as you stock up your wardrobe with Royal Orchid for 2014, tell us who looked the best so far in the flattering colour – and who would you like to see wearing it?