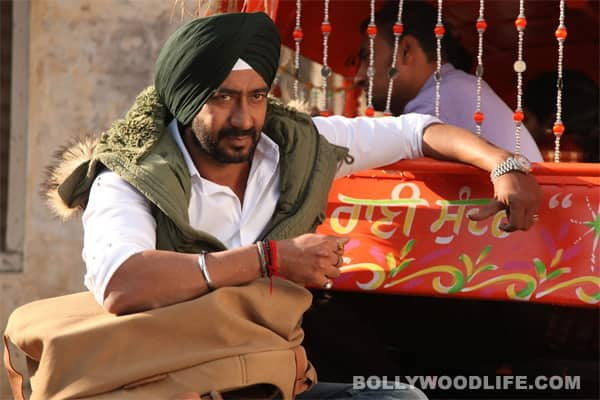 Ajay Devgn has grown steadily and successfully over the years. But what does the future hold for him as an actor and a producer? Will Son Of Sardaar be a success? Is he strong enough to fight the issues surrounding him currently? Our Tarot card reader finds out…
Ajay Devgn recently launched a war of sorts against Yash Raj Films and their alleged monopoly over movie screens. And in the wake of these issues surrounding Son Of Sardaar, the Strength card explains the belief, grit and determination that Devgn holds. This card also reaffirms the positive response SOS will receive. In fact, the Six and Seven of Wands along with the Temperance are impressive cards that show immense balance and command. The aggressive marketing will pay off and we will see SOS gaining gradual and strong momentum, clearly reflecting box office success.
Devgn will be ruled by the planet Jupiter this 2013, where he will explore lucrative plans that bring him financial strength, allowing him to take on new projects. The benefit of this will be seen in the ideas he produces. The Knight of Wands is a man who charges ahead and that is how he will be as a producer, but he will not be doing so blindly especially as the Hermit is indicative of his wisdom. He will be able to channel his fiery energy and enjoy challenges with great success.
As an actor, after the release of SOS, we will see Devgn in Sajid Khan's Himmatwala and Rohit Shetty's Golmaal 4. Himmatwala will do well, especially because it will provide a complete experience. The Magician and the Ace of Pentacles do show this being a risky project, but one that will pass all its challenges and will even do well in the overseas markets.
Golmaal 4 is currently on the right path to achieving success, but there will be a fight at the box office. Therefore, a timely release will see it being more beneficial for the film. With the Hanged Man appearing in Devgn's third film, Satyagraha, there will be a delay in the shooting, which may be quite frustrating but the matter will be resolved quite perfectly later.
Devgn's time ahead is a special one – as a producer, actor and his overall standing in the industry. His fans will increase and his appreciation will grow. The Emperor card will ensure he is noticed as a leader and respected for his beliefs. The Star card is that of stardom and glory, but it also advises the actor to look to build himself into a brand. And yet the Ten of Wands also explains the importance of delegating his tasks well, as wanting to do too much all at once may not be the healthiest thing. 2013 is a busy year for Devgn and for his fans who will get to see a lot more of him.
Learn more about our tarot reader Shruti Chopra
ALSO READ: