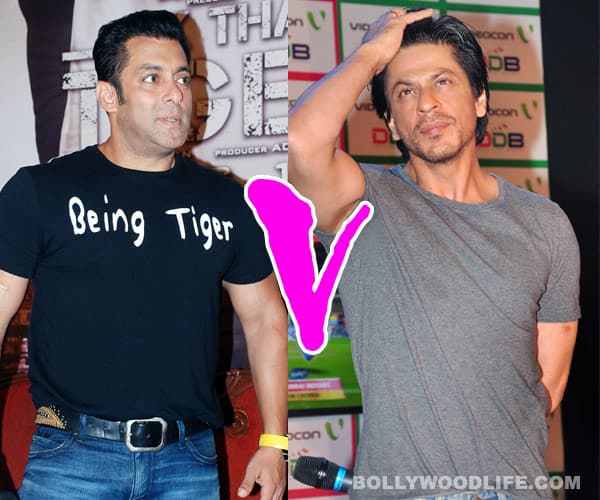 This Eid has been very good for the Dabangg dude. Will Lady Luck smile as wide at the King Khan this Diwali? We wonder…
Salman Khan's latest film with ex-flame Katrina Kaif – Ek Tha Tiger – is turning out to be a record breaking venture. The spy thriller is running to packed houses and has a long weekend to rack up sales. ETT could be one of Sallu's rare films that not only does exceedingly well at the BO, but also gets good reviews from the critics.
The think tanks at Yash Raj Films, in a bid to capitalise on the euphoria that Sallu creates with every release, have plugged in the teaser of their Shahrukh Khan musical. The 30-second trailer of the untitled Yash Chopra romance didn't say much, but did manage to get loyal SRK fans into theatres. After a few weeks the Chopras might shift the focus to their SRK-starrer with longer and more revealing trailers and perhaps even the name of the new film. While the Dabangg dude has consistently churned out blockbusters for the past few years, King Khan's record isn't as great. Which makes us wonder if Aditya Chopra and team will spend sleepless nights over the marketing strategy for the SRK project.
Shahrukh, however, seems to be unfazed by the pressure that he is reportedly straining under. In a recent interview he said, "I've made Rs 100 crore; should I aim for, Rs 150 crore or 200 crores next? If you ask me, 'Your film has done 100 crores are you happy?' I'll say I am not, I did not make everyone feel good. Numbers are like pet dogs, they will follow. But if you follow numbers, I do not think you'll get far." Wethinks SRK's new film with Katrina and Anushka Sharma doesn't look like a mass entertainer. No doubt it will be a good film, but one that could break Tiger's record? Naah…
ALSO READ: Did Katrina Kaif call Salman Khan a pumpkin?