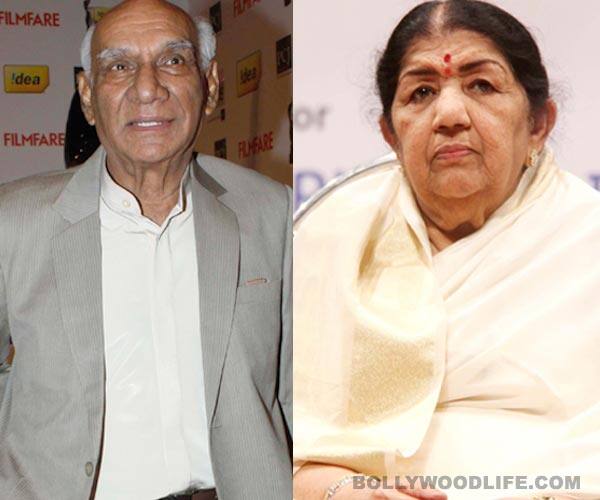 The king of romance is celebrating his birthday today. Incidentally, his favourite singer Lata Mangeshkar will celebrate her 83rd birthday tomorrow. Will the powerful filmmaker be on Lata's side as the nightingale of India deals with a major controversy?
Lata Mangeshkar has always been Yash Raj Film's leading singer. She has sung some unforgettable numbers of all time in Yash Chopra's legendary romantic flicks. From Kabhie Kabhie to Dilwale Dulhania Le Jaayenge and from Silsila to Veer Zara, the veteran singer has lent her melodious voice to projects that are etched in every film buff's mind as much for their romantic plots as for their unforgettable music.
Today Yash Chopra is celebrating his 80th birthday and tomorrow Lata will blow out 83 candles on her birthday cake. But while the former is excited about his forthcoming release Jab Tak Hai Jaan, the later is facing a major controversy. The late singer Mohammed Rafi's son Shahid Rafi believes that Lata Mangeshkar is lying to the world by claiming that she received an apology letter from Mohmmad Rafi, who tried to make up with her after a fight, all those years ago. But Shahid insists that nothing like that ever happened and threatens to take legal action against Mangeshkar unless she apologises…in writing.
Will Yash Chopra, who considers Lata Mangeshkar a close friend for decades now, come to her rescue? The veteran singer is now not at a high point in her career; it's been a long time since she sang in a film. Shahid Rafi too believes that Mangeshkar's popularity is on the decline and that she is grabbing attention by fabricating stories.
In this tricky scenario will Yash Chopra invite Lata Mangeshkar to sing a track or two for his much-awaited film Jab Tak Hai Jaan, starring Shahrukh Khan, Anushka Sharma and Katrina Kaif? Will he be instrumental in reminding this current generation of Lata's popularity and musical greatness?
We certainly hope so – it will be icing on the filmi cake for the Shahrukh Khan starrer!