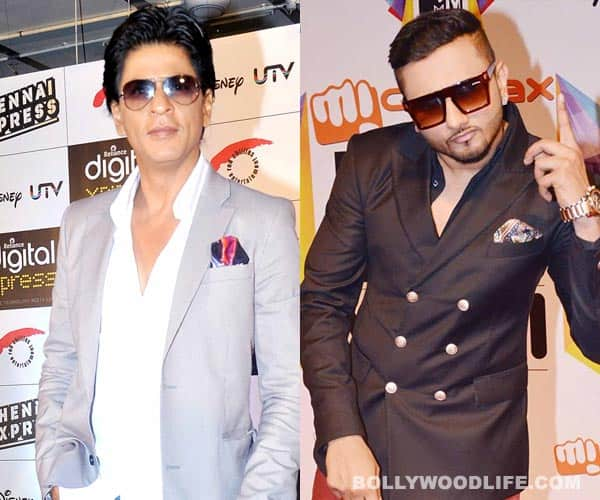 The Lungi dance Thalaivar tribute was an instant hit, so much so that Rajnikanth apparently personally called SRK to compliment him for the naughty ode….
Now we know why Yo Yo Honey Singh wants to come back as the voice of Shahrukh Khan. Riding high on the success of the Chennai Express Lungi dance song, the rapper has a yen to recreate and re-live another success story with the King Khan. "I did it (the song) for Shahrukh bhai. I had a great time shooting with him, Deepika Padukone and Rohit Shetty. I'd work with Shahrukh bhai any day again. He just has to ask," said Honey Singh.
So happy is Yo Yo with the Baadshah that he is willing to write a special song for the superstar whenever he is asked to. He just can't stop going ga-ga about SRK: "He is a phenomenon and a source of inspiration to all outsiders in Bollywood like me. We will be collaborating again very soon."
While we really would like to see this hit collaboration happen once more, we wonder what SRK's favourite composer friends Vishal-Shekhar have to say about it. After all, they were reportedly rather miffed at the Lungi dance song being included in Chennai Express, when they were in charge of the music. So do we hear the opening chords of a new controversy?
Watch Lungi dance song!
[jwplayer mediaid="254728″]