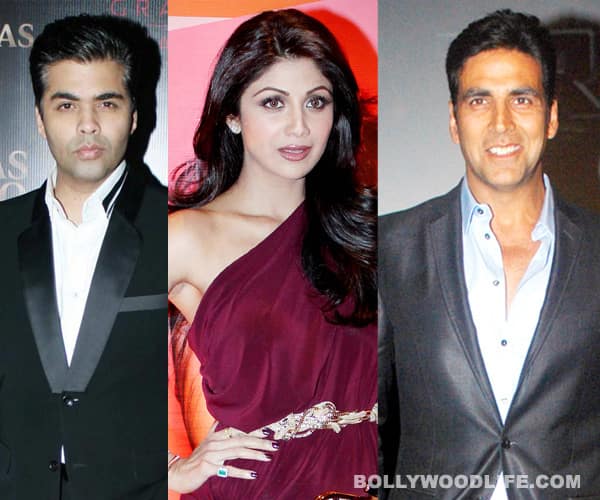 Look at what the B-towners have to say on this special day…
Today morning we peeked into the microblogging site Twitter and found that it was flooded with oh-so-many Women's Day tweets. Awww! While some were totally mushy, others dished out practical advice and pearls of wisdom to the ladeej. So take a look at what each celeb had to say and tell us – who do you agree with the most?
Preity Zinta: Happy women's Day 2all the women out there. Have 1 thing 2 say 2 U all " Don't tell me sky is the limit when U have footprints on the Moon. Happy Women`s Day to all my sisters out there ! Follow your heart and never stop believing in yourself ….. lotza love ….. muaah !
Akshay Kumar: Happy Women's Day, everyday! You don't need me or anyone else to remind you that, but no harm in a little pampering 🙂 Enjoy!
Karan Johar: Men deserve a day of celebration not women…because women own the other 364 days of the year!!!
Ayesh Takia Azmi: Happy women's day to all u amazing, fabulous women out there. Have the best day and embrace who u are. Be proud of how awesome you are. ♥
Celina Jaitly: Happy womens day all you lovely people …. xx Dont be a woman that needs a man ..Be a woman that A MAN NEEDs…….Happy womens day 1ce again xx
Juhi Chawla: Happy women`s day !!!
Sunidhi Chauhan: Happy Women`s day! 🙂
Anupam Kher: Women are superior to Men. God gave them tolerance, intelligence, beauty and the power to give birth to another life. HAPPY WOMEN`S DAY.:) Happy Women`s Day will make more sense the day We actually think of their Happiness, Dignity & Respect. Men need to change. Women are Fine:)
Ranvir Shorey: Good morning. And before I call it a day, Happy Women`s Day. Don`t oppress, or be oppressed.
Madhuri Dixit-Nene: Happy Women`s Day sisters!!
Siddharth: They truly make the world what it is…women everywhere, here`s to you! Happy Women`s Day! Thank you:)
Shazahn Padamsee: Happy Women`s Day to all my girls out there! 🙂
Shreya Ghoshal: And happy women`s day to all!!
Gul Panag: And Happy Women`s Day. Spare a thought for those of our sisters- millions of them- who don`t even know about this day.
Dia Mirza: Strength, independence n glory to all u women out there. You are all incredible. Each one of u! Happy women`s day! To all you wonderful women out there, everyday is special because you are. Happy WOMEN`s day!
Shabana Azmi: women perform 66% of d world`s work, earn 10% of world`s income and own 1% of the world`s property…food for thought n happy women`s day!!
Neil Nitin Mukesh: Wishing all a very Happy Women`s Day.
Bipasha Basu: Am proud 2 b born as a woman n am happy 2 see tht this day inspires women thruout d world 2 wrk 2wards equality.Happy Women`s Day Ladies!!
Ajay Devgn: and Happy Women's Day. Respect the lady of the house and steer clear from unwanted Atithis 🙂 Ultimately the Munmuns take all the trouble.
Shilpa Shetty: Here`s a toast 2 us gorgeous women..4 the men who have us, the losers who lost us,& the lucky ones who`ll meet us! Happy Women`s Day!ha ha