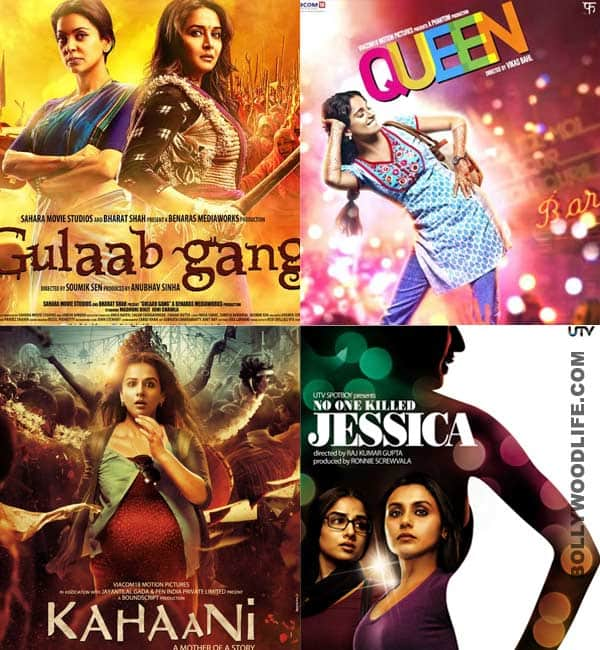 Everyone talks about empowering women and today, the world chooses to commemorate their achievements by making this day special for them. We at BollywoodLife also appreciate the women power in the nation and across the globe. We present seven songs which describe a every mood and feeling of a woman. We dedicate these songs to our wives, mothers, sisters, girlfriends, etc.
Teri jai ho (Gulaab Gang)
Sung, composed, and written by Soumik Sen, this is a tribute to women. It is a praise for women and what all they have done to better the world. Surprisingly this one does not have the feel of folk tunes and is quite contemporary. It would definitely lift your spirits and make you want to call your mothers, sisters, wives, girlfriends, etc and thank them for all the good things they have done for you. Although a bit on the slow side, this track should be there in every girl's playlist to boost their morale and should be there in every guy's playlist to remember how important the opposite sex is to the society.
Jugni (Queen)
Sung and composed by Amit Trivedi, this one gives you a beautiful beginning with superb starting notes. The track takes you on a high with its meaningful lyrics by Anvita Dutt. The arrangement of the music is nice. Various instruments come in one by one and give you that much needed pump up. Amit's vocals are good and go well with the tone of the song. The lyrics are motivational and ask every woman to stop remaining oppressed in the male dominated world. The song urges all ladies to untangle the shackles and fly off independently for a better future.
Aali re (No One Killed Jessica)
Tochi Raina, Biswasjit Chakraborty, Shriram Iyer, Raja Hassan, Anushka Manchanda, Sonu Kakar, Aditi Singh Sharma and Sonika Sharma together have presented this number which is a description of a bold, rebellious, outspoken, dynamic and headstrong woman. Composed by Amit Trivedi and written by Amitabh Bhattacharya, this song uses a lot of slang and justifies them by the usage of some hard core edgy music. The song grows on you and is not something that is normally hummable, but the impact it crates on the listener is awe-inspiring. It ushers that adrenaline pump in your blood stream and you, as a woman, would be motivated to fight against all the ills of the world.
O Womaniya (Gangs Of Wasseypur)
A jugalbandi between folk music and contemporary beats, this one is sung by Khushboo Raaj and Rekha Jha. The song has a raw feel and grown on you after you have heard it a few times. The lyrics by Varun Grover have been penned very thoughtfully keep the sensuousness in every woman. The song describes the desires of owmen. It's a non commercial song is likeable because of its freshness. The use of tabla and other desi instruments in this Sneha Khanwalkar composition makes it all the more pleasurable!
Vo Dekhnay Mein (London Paris New York)
Sung, composed and written by Ali Zafar, this song has a déjà vu feel to it. The piano dominates the second track especially the antaras. The song is a soft and soothing romantic ballad and describes a lady perfectly. The lyrics are intentionally simple and thus appreciable. The song also has a female version sung by Aditi Rao Hydari, which starts off gracefully alongside polished guitar strums. The beauty of the song lies in its simplicity and the way it describes a girl graciously.
Drama queen (Hasee Toh Phasee)
The crazy side of a woman is described by this number from the Parineeti Chopra Sidharth Malhotra number. Sung by Vishal Dadlani and Shreya Ghoshal, it is a full on party number and has funny lyrics. The song's upbeat music and the mood of the video are very catching. Amitabh Bhattacharya's lyrics describe aptly the crazy side of a girl. It is a guy's ode telling what all he dislikes in a girl and how at the end he falls in love with her because of all those traits.
Yeh meri kahaani (Kahaani)
Sung by Shreya Ghoshal, this song shows the versatility of her voice. It is a very peaceful melodious situational composition. Given the focus of the film, a feminine track was required and Vishal-Shekhar's composition brings in that needed thump to the song. The live acoustic guitar played by Gaurav Gupta is superb and stays on with you for long. The flute renditions in the second interlude are first class and touch the soul. The lyrics are deep and thought provoking. Everything is simply terrific and makes one hit the 'Repeat On' mode instantly.
So go ahead BollywoodLifers and let us know which your favourite number.