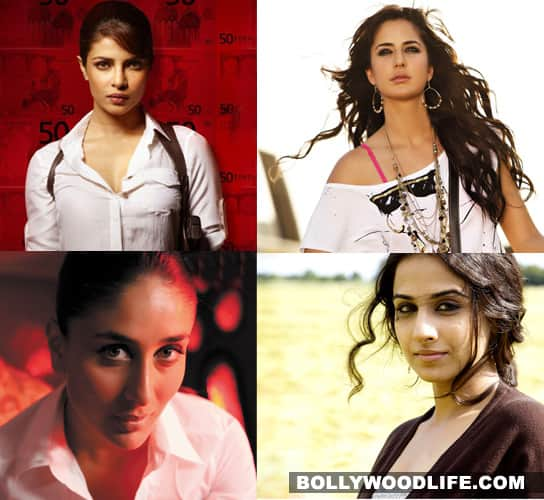 This Women's Day, we take a look at the female actors who are fighting to make a place for themselves in a male dominated industry
Even today, box office success in Bollywood is attributed mainly to the male stars involved in a project and filmmakers spend big bucks to cast a big heroes in their films. Sadly, while there is a long list of male stars that includes Shahrukh Khan, Salman Khan, Aamir Khan, Hrithik Roshan, Akshay Kumar, Ajay Devgn, Sanjay Dutt, Ranbir Kapoor and Shahid Kapoor – who are all staking their claim at the turnstiles – there are only about three or four female stars who command any kind of respect at the BO.
According to trade pundits, just three female stars can even come close to affecting the opening of films – Kareena Kapoor, Katrina Kaif and Priyanka Chopra. "Kareena Kapoor is an acting talent and she can do a variety of roles. She has been part of consecutive hits in the last few years and people are now expecting her films to be blockbusters," says trade analyst Amod Mehra.
In Katrina's case, Mehra believes, luck has played a huge part. "Her films have managed to do well at the box office quite consistently and she has the star power. She has been quite lucky," he feels. Kat has hit the big league even without the presence of the Khans in her films; case in point: Namastey London, Ajab Prem Ki Ghazab Kahaani and Mere Brother Ki Dulhan, all of which were hits but not huge blockbusters. Her glam quotient always adds to the commercial strength of a film. "Kareena and Katrina are definitely the only two actors who can be called box office queens," says trade analyst and reviewer Komal Nahata.
While we would like to believe that there is competition for the number three spot between Priyanka Chopra and Vidya Balan, the trade is still treading carefully and waiting to see if Vidya can sustain the star status she recently garnered. Mehra feels that Vidya is far from being the 'female Khan' of Bollywood. "Her star value has gone up after The Dirty Picture, but it might work against her in her next film, Kahaani. People might go in expecting something more entertaining and mainstream," he believes. He doesn't deny that she is the strongest performer of her time, but Vidya's star status is very new and might not last for too long!
Nahata has a slightly different view on Vidya. He feels that her presence in a film definitely helps. "The Dirty Picture had three heroes and songs like Ooh La La, while Kahaani is more serious kind of film. There is no doubt that Vidya is a top class actor and people expect a good film from her. But we don't expect a big opening for Kahaani. I am not saying that it won't do well; it could if the film is good and because of Vidya's presence, but it's not expected to get a huge opening," he explains.
The point is that no female star can solely affect the box office even today, whereas a male star can. While the leading ladies usually have to depend on the men to get a huge opening, the converse is rarely true, even with films like Chirag Paswan's Miley Naa Miley Hum with Kangna Ranaut or Uday Chopra in Pyaar Impossible with Priyanka Chopra. Nahata is quick to clarify that all of Kareena's recent successes have been with Khans. "All her blockbusters were Khan movies, so it does not prove that Kareena can directly affect trade. But she has a big list of hits to her name now, which helps. And it's too early to say anything about Heroine (which rests solely on her shoulders) right now," he says. The actor has proved in the past with Jab We Met that she can drive a film's success with her strong performance and so there are high expectations from Heroine, apart from all the hype and toing and froing that has happened around the film, of course!
The real question mark right now is Priyanka's strength as a heroine. Despite winning several awards for her strong performance in Saat Khoon Maaf, Priyanka suffered a blow commercially with the failure of important films like What's Your Rashee, Anjaana Anjaani and Saat Khoon Maaf, till Agneepath came along and gave her a blockbuster to add to her showreel. But she had a bit part in the movie and it hasn't upped her BO status in any significant way. She will have to bank heavily on Krissh 2 with Hrithik Roshan, Barfee with Ranbir Kapoor and Teri Meri Kahaani with Shahid Kapoor to bring her back into the game.
Unfortunately, there are just a handful of good roles being written for female actors and the competition is fierce. Actors like Deepika Padukone and Anushka Sharma are showing some sign of being able to get ahead in the numbers game, but the trade does not trust them just yet. They need several blockbusters and some great roles to turn this situation around. Others like Asin and Kangna Ranaut haven't managed to garner the kind of star-value they should have managed to do in the last three years.
Women oriented films are very rare in the Hindi film industry and there are just three or four of those coming up in 2012. Still, it does look promising for the top female stars. While Vidya plays a pregnant woman in Kahaani and attempts comedy for the first time in Ghanchakkar, Priyanka plays a mentally challenged girl in her next, Barfee. Kareena, who has already been appreciated for her subtle performance in Ek Main Aur Ekk Tu, has her hopes pinned on Madhur Bhandarkar's Heroine to take her to the next level. Katrina Kaif is not expected to do a woman oriented film at this point, as she is still considered a glam doll rather than an actor. But things could change this year. She will be directed by Yash Chopra (who is returning to direction after a long break) in a romantic film with Shahrukh Khan. Kat will be relying heavily on this one.
While most of these girls often state that they don't believe in the numbers game, we think a catfight will flare between Bebo, Kat, Piggy Chops and Vidya to become the reigning box office queen. As of now, the trade says that Kareena wins the race for 'the strongest woman in Bollywood', hands down!
ALSO READ:
Women's day special: Sandhya is a 'worthy' daughter-in-law in Diya Aur Baati Hum