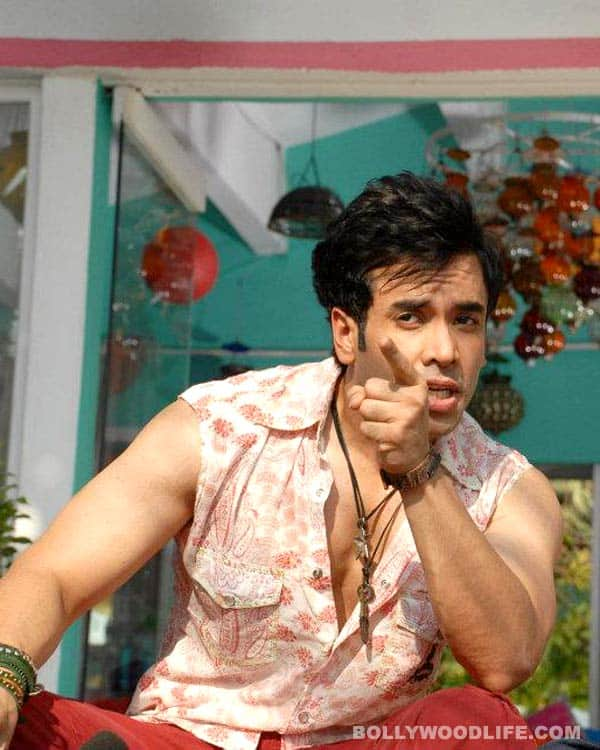 The Dirty Picture actor will emulate John Abraham's ogle-worthy introductory scene from Dostana and bare his butt, he says. But the question is, do you – or the audiences – want to look at his unclad behind?
We read that Tusshar Kapoor has been literally working his ass off and keeping away from fried foods, sweets and alcohol to get in shape to show off his posterior and six packs abs in his forthcoming comedy, Kyaa Super Kool Hain Hum. The Dirty Picture lad will replicate the first scene that showed off John Abraham in all his glory – where he gives a sneak peek to audiences of his well-sculpted derriere as he pulls up his little yellow swim trunks on the beach in that delicious scene from from Dostana….sigh, we remember that one with great fondness. The KSKHH team won't fly across seven seas to the beaches of Miami, where JA's behind made its filmi debut, but take off to the Indian beach haven of Goa to shoot the much-awaited new scene.
While we are impressed with Tushki's guts to bare down to the minimum, we don't think his would be as delectable as John's naturally gifted rounded rump. Or, for that matter, Shahid Kapoor, who is rumoured to wear pads to enhance his butt, but received the highest votes from Bollywoodlife readers in the contest to determine the Best Butt in B-town.
We also don't mind going with Kareena Kapoor's claim that Imran Khan has an 8-on-10 cutesy butt in Ek Main Aur Ekk Tu that would be a delight to watch more of. Even a proper peek of Ranbir Kapoor's behind would be a good thing. The towel dance where he showed off half his derriere in Saawariya was more of a teaser and left most of what was strategically hidden to the audience's imagination – a proper show is the only right thing to do and the next step in his rapidly evolving career graph, wethinks. And what we would not do to get a glimpse of Shahrukh Khan's posterior! Don't be shocked; after all, the superstar showed off his assets in Maya Memsaab, a film he did at the start of his career. But we are sure not many saw it and thus don't know about the King Khan's down-to-basics appearance. It was worth it, believe you us!
As for Tushki, frankly we'd prefer he concentrate on the brain part of acting and not the brawn, 'coz his butt ain't what we wanna see of his…err…talent!