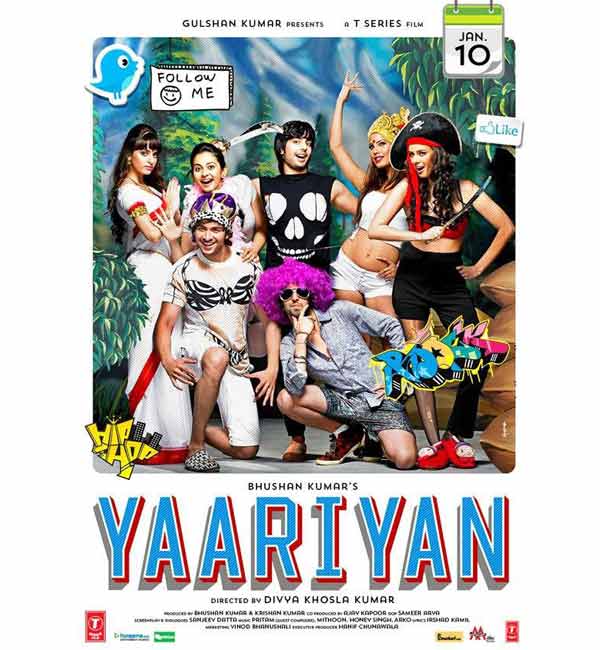 Music: Pritam, Mithoon, Yo Yo Honey Singh, Anupam Amod and Ariko Pravo Mukherjee
Lyrics: Amitabh Bhattacharya, Irshad Kamil, Mithoon, Yo Yo Honey Singh and Ariko Pravo Mukherjee
Singers: Yo Yo Honey Singh, KK, Neha Kakkar, Mohammed Irfan, Gajendra Verma, Benny Dayal, Shefali Alvares, Shafqat Amanat Ali, Arjit Singh, Vishal Dadlani, Tulsi Kumar and DJ Kiran Kamath
Yaariyan, directed by first-timer Diyva Khosla Kumar, will release on January 10, 2014, but its music is already making waves on the charts. This one is a romantic college story based on the lives of five friends who come together at a college reunion and recollect their favourite moments as students. Himansh Kohli, Serah Singh, Dev Sharma, Rakul Preet Singh and Nicole Faria portray the five best buddies. The music of Yaariyan is rather like that of Aashiqui 2 in the implementation. Both movies have a number of popular music composers coming together. Mithoon, Pritam, Yo Yo Honey Singh, Anupam Amod and Ariko Pravo Mukherjee have contributed to the album of Yaariyan, which has lyrics written by Amitabh Bhattacharya, Irshad Kamil, Mithoon, Yo Yo Honey Singh and Ariko Pravo Mukherjee.
Sunny Sunny sung by Yo Yo Honey Singh and Neha Kakkar is a party number and is upbeat throughout. The vocals and the lyrics match and Honey Singh's presence adds necessary spice. Overall, you can listen to this track and see the video for its awesome locales and the bikini-clad women and bare-chested men!
Baarish by Mohammed Irfan and Gajendra Verma has very strong lyrics and the music compliments it pretty well. This is a very meaningful song and the poignant lyrics gives it that ultimate special touch. There is one small problem with the song though – it is a bit too stretched out. Maybe in the movie with the situation it might not seem that way. Check out the remixed version of the same song by DJ Shiva – it has a great drum, bass and techno effect.
ABCD is the best track on the album; you definitely will be humming this for a long time after you listen to it. It has been sung by Benny Dayal, Shefali Alvares and Yo Yo Honey Singh and is the perfect club party track. The song is laden with drum and bass notes throughout. It could be slightly dull at points and unlike previous Honey Singh numbers, but has that wow factor. The remix version by DJ Kiran Kamath is not that great.
Allah waariyan, sung by Shafqat Amanat Ali has the perfect blend of Sufi sounds and traditional Indian folk. It has been wonderfully arranged and mixed by the composers. The cherry on top is Shafqat's voice, which makes the song magical to listen to. He has performed superbly and his voice makes you want to hear the track again and again. This one is surely a winner.
Love me thoda aur, sung by the amazing Arjit Singh has a very soothing feeling to it, just like so many of his previous songs. It opens up beautifully with the tune of the piano and the guitar that comes in midway takes you to another high level. This track is worth a listen.
Mere maa, sung by KK, takes you back to Tare Zameen Par's song, Maa. This one has a rock and roll feeling and the high notes touch your heart. The track is certainly catchy. The number seems to be integral to the plot of the movie. There is also another reprised version of the same song. Anupam Anand lends his voice to another version that is also equally appealing.
Zor lagaake haishaa, sung by Vishal Dadlani does not click at all. This song falls flat at all the essential places. The music, the lyrics, even the amalgamation of the two try hard to better this one, but still it remains a lacklustre number.
Mujhe ishq se, sung by Tulsi Kumar and Gajendra Verma is great in terms of individual performances. The lyrics and the music tend to mix nicely and keep playing in a corner of your head. This is definitely a keeper.
Lastly, the Yaariyan mashup by DJ Kiran Kamath gives you the same feel as the Student of Year mashup. That track was considered one of the best last year and this one is sure to grab that spot this year.
Verdict: Yaariyan has all the ingredients that go into making a soundtrack a hit. There are songs that you might not like at all, but most tracks are good and tend to give you that youthful feeling. This album is definitely going to make waves during New Year bashes, luring party-goers to dance till they drop.
Rating:
out of 5
Reviewed by Prateek Sur
* Poor
** Average
*** Good
**** Very good
***** Excellent