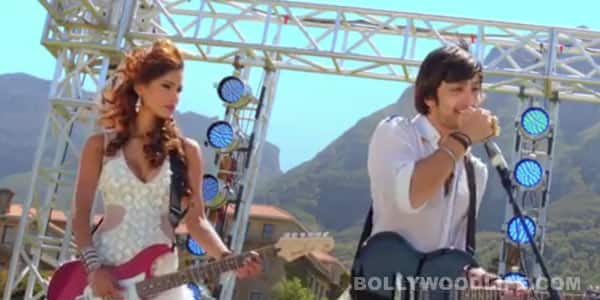 The latest song from the movie is out and the video looks like a badly done spoof of Bryan Adam's Summer of 69!
The latest song from Yaariyan – Meri maa has nice lyrics, melodious tune and velvety voice of KK, but… But what, you ask? Well, the video is an understatement for a mood spoiler!
Now we don't intend to come across as meanos, but we are just telling you what we felt after watching the video. There is a stage with a couple of people (read, band) on it- Himansh Kohli, the lead vocalist; Nicole Faria, the lead guitarist; a drummer and a keyboard player who look like they are pretending to put together a stage performance. We say they are trying to put together a performance because when we called our experts and asked them what Himansh was exactly trying to do, they said they had no idea! To top it all, the stage performance begins in broad daylight and ends in the night – for a three minute song…really?
Coming to the song, Mere maa, sung by KK, takes you back to Tare Zameen Par's song, Maa. This one has a rock and roll feel to it, which is aptly supported by high notes that touch your heart. The track is certainly catchy and seems to be integral to the plot of the movie. There is also another reprised version of the same song where Anupam Anand lends his voice and has made it equally appealing. Pritam's music and Irshad Kamil's lyrics have been put together well, to give you a motivational feel along with rock beats.
Wethinks you would want to keep this song in your ipod and listen to it every time you seek inspiration. As far as the video is concerned, if you're into comedy, you're going to love the video too!
Read the full music review here.