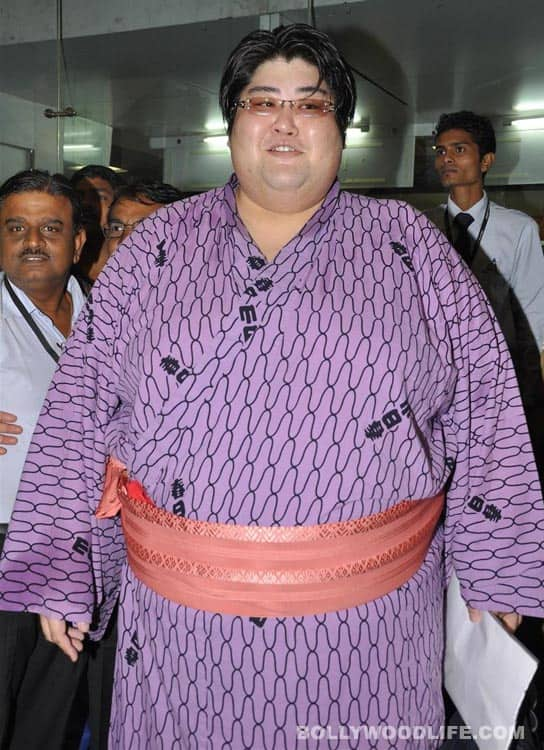 The inmates of Bigg Boss 5 have something to look forward to in sumo wrestler-turned-origami teacher Yamamotoyama in their last week. But in this quirky attempt, will the 272kg wrestler be successful in introducing creative craft to the housemates?
Japanese Sumo wrestling champion, Yamamotoyama, is all set to make a guest appearance on Bigg Boss 5. The 27-year-old wrestler who has recently retired from wrestling after 15 years has heard about Salman Khan and Sanjay Dutt, but hasn't seen any Hindi movie yet. As he prepares to make his 'big' entry into the house, here's what is going on in his mind.
Will you help the housemates with the regular activities?
I am a guest, so I hope I won't have to do anything. Even at home I don't do anything. I love to sleep and eat on a free day in Tokyo. But if I am explicitly asked to do housework, I will do it without any hesitation. I plan to teach the housemates a popular Japanese craft – Origami, and some sumo wrestling too. All they have to do is follow my instructions. 
So what do you expect from this experience?
This is my first trip to India and so far the experience has been very good.People are kind, warm and have treated me really well. So I hope that the people continue to be warm and nice and accept me for what I am (a sumo wrestler). I have seen parts of the fourth season of Bigg Boss and know what it's all about. I have also observed the tasks given to the contestants and how they execute it. Well, I won't shy away from saying that I didn't understand what they spoke, but I did observe them.
However, certain changes will be made in the house to accommodate the six-feet-four inches tall Yama. So, is it going to be challenging task to adjust?
I have been told by a close associate from India that Bigg Boss is very big in India. So, I am looking forward to my visit to India. I want to see how it is to be locked inside the house with strangers and people from different walks of life. Being a sportsman I have taken this as a challenge.
You don't understand much of English or Hindi and will use special placards with pictorial representations to help him communicate his needs to the housemates. How do you feel about it?
Language will definitely be a barrier. However, I will try to use actions to convey my messages to the housemates. Additionally, I am sure Bigg Boss will make some special arrangements for me (he smiles). I am entering only as a guest. I will be myself and spend my time inside the house learning about the culture and meet new people from India. I hope they are happy to see me. Yamamotoyama will  join contestants Amar Upadhyay, Juhi Parmar, Mahek Chahal, Siddharth Bharadwaj and Akashdeep Saigal in Bigg Boss house on January 2, 2012. Now will the inmates follow Yama's instructions or will the wrestler lose weight over everyday tasks remains to be seen?