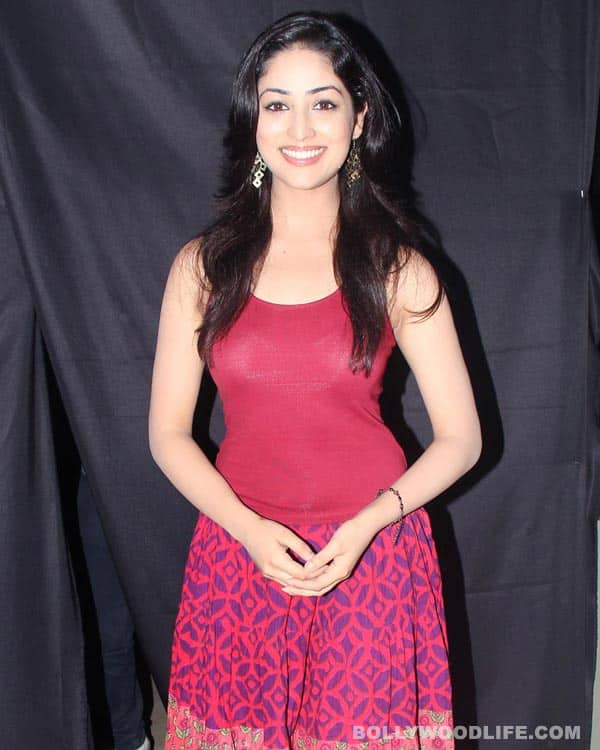 The Vicky Donor actor is excited and nervous as her debut film is up for release this week. She has been busy with a series of interviews all over the country, but is happy about how the film has turned out, especially because the subject is so sensitive…
Yami Gautam wanted to be an actor when she was a child, but later on she seriously took to studies till a relative passed on one of her photographs to a production house. The lucky girl then went on to do a television show, followed by a slew of TV commercials and a regional film. She spoke to us about her journey so far and shared anecdotes in a conversation laced with coffee and giggles.
Did you always want to be an actor?
As a child I wanted to be an actor, but soon I turned studious and somewhere down the line I had nothing to do with films. While in school, one of my teachers wanted me to act in a play but being such an introvert, I almost didn't do it; she somehow managed to convince me to play the part and, much to our surprise, our play won! A few years later, a relative of mine who really wanted me to try my hand at acting sent my photographs to a few production houses and thus the journey began.
What was the experience like, working in regional films and television commercials?
Television commercials are really challenging, because there is so much to be said within a span of 20 seconds. There is so much you feel like doing, but the given limitations push you to deliver your best shot. I have been the face of a leading fairness cream for a really long time – they think I am their lucky mascot. (Giggles)
Acting in the Telugu film was a really surprising experience. Before going there I had heard stories from people about the unpleasant experiences they had there. Thankfully for me, it was anything but unpleasant. When I received my narration, the makers were already very clear even about how the hoarding of the film would look like and the shooting hadn't even started yet. (Giggles)
With so much clarity in their thoughts, nothing could go wrong and ultimately the film turned out to be a huge hit. Actually, once I am committed, I never take any job for granted, be it a television show, advertisement or film. I always give my hundred percent, no matter what the job is. Of course, I am lucky that I haven't had any unpleasant experiences and I credit that to my parents who have taught me how to say no. I have had my share of rejections and disappointments, films getting stuck et al, but they have all added to my experience as a human being.
Weren't you apprehensive while agreeing to do a film with a subject as sensitive as Vicky Donor's?
To be very honest, I was really apprehensive when I read that the film is about a sperm donor. I flew back to my parents in Chandigarh to get their approval before signing on the dotted line. I first handed the script to my mom, but she asked me to tell her what the film was about. When I told her, she was chilled out. I felt very awkward about telling the film's story to my dad, so I handed over the script to him and told him to read it at his office. Much to my relief, he also liked the script. The initial apprehensions apart, it also helped that I had seen Shoojit sir's last film Yahaan and had liked it a lot.
In the film I am playing a Bengali girl, Ashima Roy – my biggest concern was to get the Bengali traits right. I watched a few Bengali films, followed up with some films of Konkona Sen Sharma. I am a half-Pahari-half-Punjabi girl and I talk really fast. Bengali girls are known for expressing through their eyes and not blabbering away to glory. Though I was cast after an audition, a few days into the shoot Shoojit sir had apprehensions about me playing a Bengali girl. Now that was the real challenge. We did a few look tests; I had to tone down my fairness a bit, apply kohl and, after some initial hiccups, I became Ashima Ray! (Giggles)
I would also like to add that a film like Vicky Donor is important and should be watched by families as well. Though it is an issue-based film, it is very entertaining – like a Rajkumar Hirani film.
When did you first meet John Abraham, the producer of Vicky Donor?
We were shooting at a mall in Delhi and we were doing a very intense scene. I was in that zone, watching my performance on the monitor, when my co-star Ayushmann Khurrana came up to me and started saying 'John John John'. I was so absorbed in my work that I didn't comprehend what he was saying. Then when I turned back and saw John, I realised why there were so many people gathered around us. John was very friendly, down-to-earth. He was very encouraging too; he told us that he had seen the rushes and he liked our work. I found him very intelligent.
Why is everyone surprised that a brawny boy can be brainy as well?
Let me explain… there is a reason why people think Aamir Khan and Shahrukh Khan are intelligent people. The reason is that they are not just actors, they are much more; they are producers and successful entrepreneurs as well. The same logic applies to John as well; not only he is a star, he is a film producer and he makes TV commercials. Not taking away from other actors who stick to their day job, but it does take some level of intelligence to juggle so many hats with such élan. (Giggles)
What was the experience like, working with Shoojit Sircar?
The best thing about him is the clarity. He has already edited the film in his head and knows how exactly it will look. I had total trust in his vision and simply surrendered myself. Take The Dirty Picture, for example; it could have ended up looking so tacky, if the film was helmed by someone less talented. I believed in Shoojit sir's conviction about the subject which is sensitive, but still doesn't turn preachy.
Before the shooting began we had a workshop and the very thought was dreadful for me, to say the least. I am a natural actor and I had no idea how anyone could learn how to act. But I am grateful for that learning experience, because I know much more about my craft now. Though I was bored out of my skull at the class, I was listening to everything being said and all that came handy while we were on the sets shooting Vicky Donor.
Did your co-star Ayushmann Khurrana bully you much?
It wasn't anything like that. Actually Ayushmann and me go back a long way. Our fathers have been friends and though we used to meet each other at family events, working together in a film was an altogether different experience. When we first met each other at Shoojit sir's office, we were pleasantly surprised to know that we would be making our Bollywood debut together. We are both introverts and take a lot of time to open up. He has a theatre background and leaves a great impression with his public appearances, but the best thing about him is that he is a very nice human being and you'll notice that he looks fabulous in the film.
What is the way ahead for you as an actor?
I don't want to be slotted in any type of role. I want to be a part of good films like those made by Dibakar Banerjee and Rajkumar Hirani. For me the journey has just begun. Eventually I would love to work with the Khans, Kumars, Kapoors and I have already worked with a Khurrana. There seems to be a 'K' connection. (Giggles) I watch all kinds of films, but I am looking forward to those that ably balance the commercial and art aspects of cinema without boring the audience. (Giggles)
ALSO READ: VICKY DONOR item song: Watch John Abraham rehearse dance moves