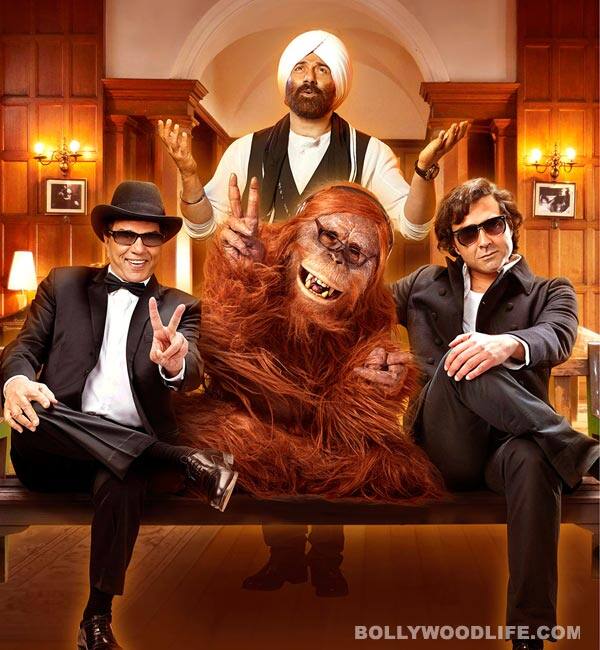 Compared to the first part of the franchise, the second edition lives up to its title – this new con game is indeed full of entertainment, dhamaal and masti, all in true Deol style!
The Deols – Dharmendra, Sunny and Bobby – are back…and how! As predicted by the movie's makers, trade pundits and us, the dumdaar Deol family has certainly doubled up the magic this time. We are impressed! To make it look and feel relateable with the first part, YPD2 too starts in Benares, where Dharam (Dharmendra) and his son Gajodhar (Bobby Deol) are still conning people. And then they bump into filthy rich UK-based businessman Yograj Khanna (Annu Kapoor) and decide to con him too. Dharam takes his 'disciple' Yograj for a ride, as he wants Gajodhar to marry Khanna's daughter Suman (Neha Sharma).
Palwinder Singh Dhillon (Sunny Deol) works as a debt collector in the UK; he takes up the job of a manager at Yograj's club to find out why he hasn't been able to repay his bank loan. While doing so, the jatt falls in love with Yograj's other daughter Reet (Kristina Akheeva). Just when Palwinder believes that his father and brother have given up conning people and are living a shareefo wala life in Benares (as promised by them in the climax of Yamla Pagla Deewana), he's shocked to see the aadat se majboor baap-beta pair in UK. The three Deols then plunge into a crazy, action-packed, impish and over-the-top sequence of events.
The twist in the story: Dharam and Gajodhar travel to the UK with the intention of duping Yograj, but they aren't aware that he's bankrupt and Palwinder is helping him clear up the mess. They realise this too late, since Suman is soon head over heels in love with Gajodhar. If that wasn't enough, the conmen are faced with a new shocker – Suman is not Yograj's legitimate/real daughter. That puts them in a new kind of fix! In the meanwhile, Palwinder helps Khanna's 'real' daughter Reet renovate her pub, thereby impressing Yograj. But Dharam and Gajodhar don't give up easily; instead, they devise a new plan in which Dharam asks Gajodhar to forget Suman and concentrate on pataoing Reet, much to Palwinder's dismay. Dharam tries every trick possible to get his son married to Reet and convince Yograj that Gajodhar is the right guy for his daughter. Palwinder requests Dharam and Gajodhar not to cheat Yograj and his daughter Suman, who truly loves Gajodhar. But the greedy father-son duo rubbish his suggestion. And then follows a series of one-upmanship stunts and right-overdoing-wrong acts.
YPD2 is bigger, better and funnier ride than its prequel. Apart from bringing out the crackling real life chemistry between father and sons, the film revels in its light-hearted tone, scoring high marks in the dialogue department. And with director Sangeeth Sivan (of Kyaa Kool Hai Hum fame) helming the project and the inclusion of Annu Kapoor (trying for the perfect UK accent) and Johnny Lever in the cast, the humour quotient of the film reaches a new high. Though the humour is slapstick, the gags are hilarious in bits and parts.
It's a treat to watch the veteran Dharmendra matching up to his sons and ably supporting them in this fun endeavor. At 70, the original He Man of Bollywood still has the energy and good looks that could give any hero a run for his money. Sunny Deol lives up to his reputation and is as real and entertaining as he could be. Loverboy Bobby shines equally with his dearest father and big brother. The cinematography is decent, while the action is intentionally larger-than-life, though entertaining, especially in the last 15 minutes where Sunny single-handedly takes on four gigantic sumo wrestlers with his trademark roar. The editing could have been crisper, but it is better than in the first part, which was rather slow and dull.
On the whole, YPD2 is a fun-filled popcorn entertainer that provides double the mazaa, double the fun, double the treat and, of course, triple the Deols! So go catch this crazy, action packed, mischievous ride. The Sangeeth Sivan directorial has the potential to be a mass entertainer, provided it gets good word-of-mouth publicity. It will do amazingly well in the single-screens, but average in multiplexes. A couple of distributors who've paid unreasonably high prices may lose part of their investment, but those losses will be less than the profits made by the producers.
Our thumbs up for Deols trio and its honest effort to provide wholesome entertainment.
Rating:
out of 5
Reviewed by Dhiren Trivedi
* Poor
** Average
*** Good
**** Very good
***** Excellent