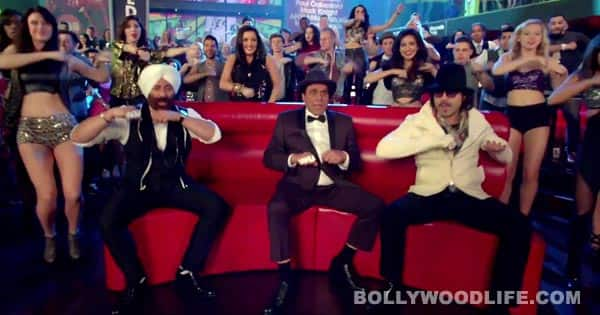 The fun song from the comedy flick has the three Deols proudly proclaim to the world that they don't know how to dance and they don't care a damn about it
Anyone who has seen the Deols dance can say for sure that they cannot dance; we're talking about the men here! There have been numerous parodies too over the years on Dharmendra, Sunny Deol and Bobby Deol and their lack of dancing talent, and the trio have been sporting enough to take it in their stride always. And now, in this new song Main aida hi nachna from their upcoming flick Yamla Pagla Deewana 2, the three admit that they cannot dance, and go on to say that this lack of dancing skills won't stop them from shaking a leg!
In the laugh out loud, second installment of the successful YPD franchise, Dharam paaji and sons are seen doing some completely bizarre steps to claim the crown as the worst dancers of Bollywood! But it's all in good fun, and joining them is a cute little orangutan, which apparently can dance no better and is a proud member of the cast! So check out this fun video and decide for yourself who could take the crown of the worst dancer!
[jwplayer mediaid="216806″]