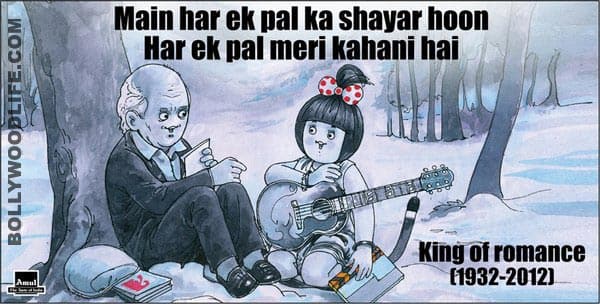 The Amul hoarding on the demise of acclaimed Bollywood filmmaker Yash Chopra is out
Yash Chopra was not only a great filmmaker, but also a poet and had a great taste in music. The Amul topical on the revered filmmaker's death pays tribute to these hidden aspects of his personality. The artwork shows a sketch of Chopra sitting under a tree, while the Amul girl is with a guitar and a clapboard in hand.
Main har ek pal ka shayar hoon, har ek pal meri kahani hai, the ad reads, ending with King of romance (1932-2012). The copy gives a twist to the Main pal do pal ka shayar hoon song rendered by Mukesh for one of Chopra's most popular movies, Kabhie Kabhi. The 1976 film starred Amitabh Bachchan, Raakhee, Shashi Kapoor, Waheeda Rehman, Rishi Kapoor and Neetu Singh, among others.
While we like the Amul hoarding, wethinks this time there could've been a slightly better tribute to the 'King of romance', and a wiser plug on the product as well. What do you think, Bollywoodlifers?