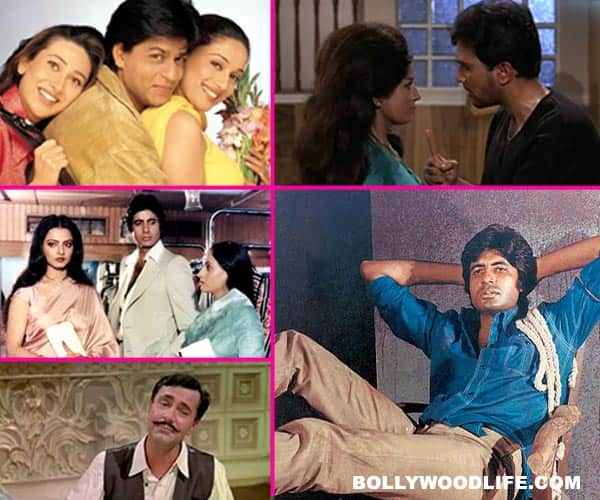 With a career spanning over five decades, Yash Chopra directed only 22 films (Jab Tak Hai Jaan being his last), ranging from hard-hitting social dramas to intense romantic sagas.
BollywoodLife pays tribute to the King of Romance with a choice of five of the veteran filmmaker's finest movies…
WAQT (1965)
Yash Chopra wanted to make this one with Prithviraj Kapoor and his three sons, Raj Kapoor, Shammi Kapoor and Shashi Kapoor. But getting the entire khandaan together was almost impossible and so Chopra finally settled for actors Balraj Sahni, Raaj Kumar, Sunil Dutt and Shashi Kapoor. Waqt created an all time record of sorts when it was released. After all, it's cited as Hindi cinema's first major 'lost and found' family story – thereafter, a number of filmmakers began to use the formula of a family separated by circumstances and brought together at the climax. Waqt made Yash Chopra a major force in the industry.
ITTEFAQ (1969)
One evening Yash Chopra watched a Gujarati play that was a craze with Gujarati-speaking audiences; he became so obsessed with it that he decided to make the story into a film. Yash was advised to cast the ruling star of that time and not his choice, Rajesh Khanna, who was still struggling to become known. But the director was determined to get his way and told Khanna that he needed to shoot with him for a month at a stretch. The song-less film had a major impact on the audience and became a very big hit. A few years later, Chopra launched his own banner Yash Raj Films and cast Khanna in Daag, his first film as producer-director.
DEEWAR (1975)
Producer Gulshan Rai signed Yash Chopra on to direct a project that created history – a film called Deewar, with a star cast of Amitabh Bachchan, Shashi Kapoor, Parveen Babi and Neetu Singh. Everyone associated with it zoomed to the very top, including writer duo Salim-Javed. With this film Amitabh Bachchan became the quintessential 'angry young man' of Bollywood. The story was based on the life of don Haji Mastan, but that was not too highly publicised at the time. Interestingly, Bachchan's character Vijay was perhaps one of the first real-life-inspired gangster roles in Hindi cinema. The story of two warring brothers and the blurring of the line between right and wrong made it a path-breaking take at the time.
SILSILA (1981)
During his 80th birthday celebrations, Yash Chopra revealed a secret: he had chosen to cast Smita Patil and Parveen Babi in this film. But after discussing it with Amitabh, he managed to rope in Jaya Bachchan and Rekha. Do we need to say anything more? The romantic drama was a very controversial movie for its time, because it depicted an extra-marital affair; and what made it even more red-hot was that Amitabh and Rekha were rumoured to be having an affair then. The movie is easily a classic romance, combining beautiful people, gorgeous settings and blockbuster music!
DIL TO PAGAL HAI (1995)
This one was a grand musical about passionate people with big dreams. Chopra had already worked with Shahrukh Khan in Darr (1993) – which started their successful association as actor-filmmaker and resulted in films like Dilwale Dulhania Le Jayenge, directed by his son Aditya Chopra. And SRK was his choice again when Yash returned to direction after a gap of five years with Dil Toh Pagal Hain, a musical starring his favourite hero, Madhuri Dixit and Karisma Kapoor. It is said that Chopra was enamoured by Madhuri and wanted to work with her at least once, and that's why he offered her DTPH. Reportedly, no female star was ready to play second fiddle to Madhuri, but Karisma not only took on the challenge but also pulled it off with great aplomb. Consequently, Madhuri who was doing less films then chose to do DTPH because of Yash Chopra's insistence. And Madhuri's endearing performance as Pooja and her graceful dance moves worked wonders for her and the film. The love story of Rahul, Pooja and Nisha made us believe that someone somewhere is made especially for us.