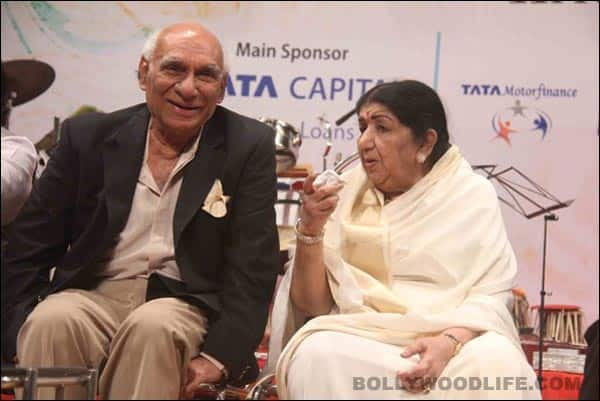 What is the magic of Yash Chopra's cinema? The ingredients include genre-redefining stories, remarkable characters, complexities of man-woman relationships and the quality of production. But one of the most important features of his style of filmmaking was the memorable music
Yash Chopra is not just the 'king of romance'. He is at heart a storyteller. Whether it was the gritty tale of two brothers and a mother in Deewar, or a revenge seeking Dilip Kumar caught in conflict with his adopted son Anil Kapoor in Mashaal, or a young Sridevi falling in love with a much-older Anil Kapoor in Lamhe – Chopra has tested many waters, sometimes a little ahead of his time. But one thing remained constant in his movies: musical depth.
It would be an understatement to say that Chopra had an ear for music. Most of all, he had a soul for music. Many may not realise this, but before Chopra earned the tag of King Of Romance, he was known as a gritty narrator.
He was one of the first to tell the story of an anti-hero – Amitabh Bachchan in Deewar – a path many were afraid to tread in the 70s. When Salim-Javed wrote the script, they did not leave any space for songs. But Chopra insisted on having at least three songs in the film. The songs were the only let down in the tight narrative. Apparently Chopra told Salim-Javed, 'Film sookhi lag rahi hai', and the writer duo replied, "Then let us name the film geeli deewar (wet wall)!"
It's not that Chopra never made a songless film. His 1969 film Ittefaq with Rajesh Khanna had no songs. But he was someone who always wanted his work to be remembered as much for its music as for its script and characters.
Almost two decades after Deewar, he cast yet another upcoming actor as anti-hero – Shahrukh Khan in Darr – and this tale of an obsessive lover was underlined by great music, including the superhit song Jaadu teri nazar sung by Udit Narayan.
The soundtrack of 1981 love triangle Silsila was a runaway hit, but the film was one of Chopra's biggest duds at the box office.
Accomplished musicians Shivkumar Sharma and Hariprasad Chaurasia made their foray into film music with this one. The headlining track was, of course,, the dream sequence Dekha ek khwab. For the picturisation of this song, the cast and crew were flown to Amsterdam and the song was shot amidst the tulip fields. The Indian audiences had never seen something like this before. Shiv-Hari's association with Yashji continued with hit music like Chandni and Lamhe. And Chopra's characters soon started being transported to exotic European locations for a romantic number in every movie he made post Silsila.
Chopra could sniff out everlasting melodies that would strike a chord with the audience. Shiv-Hari composed an instrumental piece for the background score of Lamhe, but Chopra decided to use it as a romantic dream song featuring Anil Kapoor and Sridevi. And it went on to become a huge hit. The song was Kabhi main kahoon.
By this time, Chopra had developed an affinity for instrumental dance pieces that he used as a symbol for his heroine's frame of mind. In Chandni, Sridevi expressed her angst through classical dance and in Lamhe, she did the tandav that represented her anger and unrequited love. Later, he created a dance sequence with Madhuri Dixit and Karisma Kapoor in Dil To Pagal Hai – a metaphor for the underlying competition for Shahrukh's love.
Interestingly, Chopra got back to direction in 1997 with DTPH, but decided not to work with his favourite jodi Shiv-Hari (with whom Chopra worked from 1981 to 1993 in eight films). Instead, he chose the well-known music arranger Uttam Singh, who had no qualifications as music director then. Everyone wondered why Chopra made this decision, but the association became one of the most successful of the 90s, as all the tracks in the album went on to become bumper hits.
Yash Chopra fulfilled his long-cherished dream of making a musical film with DTPH. The tagline of the film was aptly given – A Yash Chopra Musical. Uttam Singh was so nervous about taking forward Chopra's legacy of great music that he ended up making about 150 tunes for the film. During the making of the movie, Chopra said, "You can give your best, honest, sincere job and leave the rest to almighty. You can always make a good film. But to make a successful film, you need his blessings."
One of the most remarkable moves Chopra made was with Veer Zaara in 2004. The director decided to revive Madan Mohan's unused compositions 30 years after his death in the love story starring SRK, Priety Zinta and Rani Mukerji. Chopra's music sense shows in the songs he chose and the way he used them. Songs like Do pal ruka and Tere liye played a huge part in getting the audience excited about watching the film.
Chopra couldn't imagine his movie albums without the contribution of his close friend and veteran singer Lata Mangeshkar, who he called 'didi'. So yet again, Lata was channelled – she sang some of the most romantic songs of Veer Zara, and those will always be remembered as her last few love ditties.
It's not mere coincidence then that Chopra decided to work with this generation's greatest music composer AR Rahman for his last film. The coming together of two maestros was probably predestined. And it is no coincidence that we will always remember Yash Chopra as a filmmaker who continued to make musical stories till his last breath…Jab tak hai jaan.